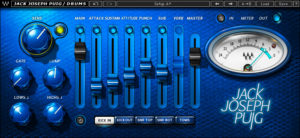 Jack Joseph Puig on
JJP Drums
: "There are certain things you usually just take for granted when you're mixing drums. Sure, the snare has to snap. Or maybe you want it to have a woodier sound. The bass drum has to have a nice bottom. But beyond that, there's a whole other range of things you need to consider to really make the song come alive. Maybe there's some tonality in the drum kit that you want to emphasize. How do the drums relate to the rest of the song? And once you figure all that out—how do you get there? Well, what's really great is,
JJP Drums
is a plugin that can do it all."
All-in-one multi-effect plugin for drums
Created in collaboration with producer / mixer Jack Joseph Puig
JJP's Grammy® award-winning sound – instantly!