Free to Download VST and AU Chorus FX plugins
List of Free VST Chorus FX plugin effects.
How to install dll file
How to install plugins from exe
How to install plugins in windows
Chorus is an audio effect that occurs when individual sounds with approximately the same time, and very similar pitches, converge and are perceived as one.
The Chorus effect was originally designed to simulate several voices, just as if several persons were playing together the same notes, but with a variable delay between them. This is one of the typical effects that you can get with Blue Cat's Chorus.
But this plug-in also enables you to drastically change the original sound and create deep pitch modulation or crazy 'bubbling' effects.
With the additional "Spread" control on the stereo version, the famous stereo widening and head spinning chorus effects are a few click away.
Main Features
Single voice vintage chorus effect.
Stereo spread control.
Sine or triangle LFO shapes.
In or out of phase mix control.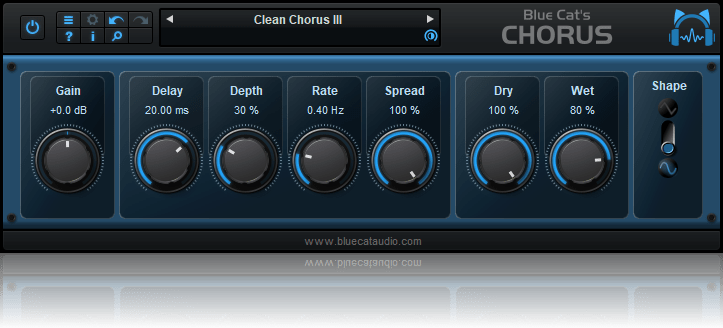 From a light ensemble to a deep destructive modulation effect, Blue Cat's Chorus can just do anything, for free!
Video:

---
Kilohearts: Chorus
The Chorus enhances the stereo effect and presence of a sound by mixing it with delayed versions of itself. It's like your own personal choir!
Delay knob: The average delay for the delayed voices.
Rate knob: The frequency of how fast to vary the delay.
Depth knob: How much to vary the delay.
Spread knob: Stereo width of the effect. A lower value will go towards a mono output.
Taps: The number of chorus voices.
Mix knob: The dry/wet mix of this effect. A lower value will let some of the unmodified signal through.
Settings panel: Whenever you have your mouse cursor over a snapin there is a small arrow at the top right corner (not visible in screenshot). It opens a settings panel where you handle presets.
It also has a "randomize" button that can be useful.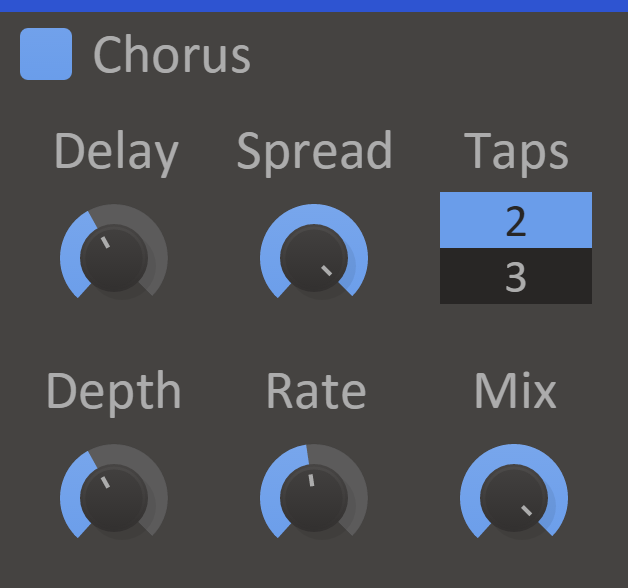 This plugin is free to download but is also part of a bigger subscription package which at just under 10 euros is an absolute bargain when you factor in that get's you the best synth out there: Phase Plant plus much much more.
---
Mercuriall Chorus Stomp Box:
Depth, Speed, Mix, Mono/Stereo, On/Off knob
You can use this without guitar, place it in your fx chain in the same way you would with other FX – it's an effective effect especially at no outlay.
Download for free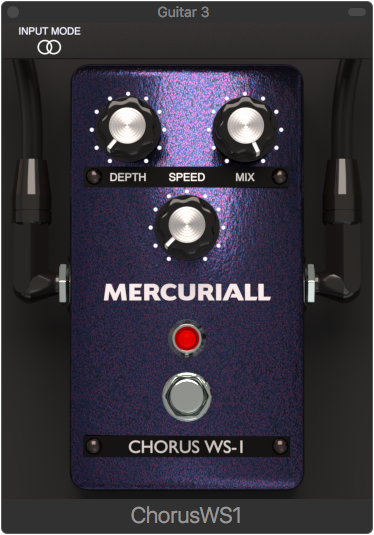 ---
Nasty DLA: Chorus and Tape Delay Effect: Free VST Chorus FX
NastyDLA is a classic chorus echo device with tape-delay simulation.
The device enables:
Classic chorus and echo effects.
Authentic signal path coloration.
Tape-delay style feedback and saturation.
Plug-in specification:
Input stage model including signal coloration and non-linearities (switchable).
Classic chorus/flanger effect with amount and rate control which automatically adopts to the delay line configuration.
Frequency balancing filter for dead-easy overall tone adjustments in the feedback path.
Two different feedback color modes.
Feedback circuit and control which supports resonance up to self-oscillation.
Standard DSP 12dB high-pass filter.
Custom "tape style" low-pass filtering.
Sophisticated "tape hiss" noise simulation.
Negative or positive pre-delay.
Comprehensive tape dynamics simulation taken from the core of the award winning FerricTDS.
The dynamics offers a slight audio ducking effect (switchable).
Two independent delay lines with up to 3sec delay time and sync to host.
Delay time modulation with two different modes.
Additional phase distortion (switchable).
Audio level metering display.
Dry/wet controls plus "wet only" option.
Power / bypass switch.
All parameters available through host automation.
---
TAL-CHORUS-LX: Free VST Chorus FX
Characteristics of the Juno-60 chorus.
2 different modes.
Dry/Wet control.
Volume knob.
Only stereo channels supported.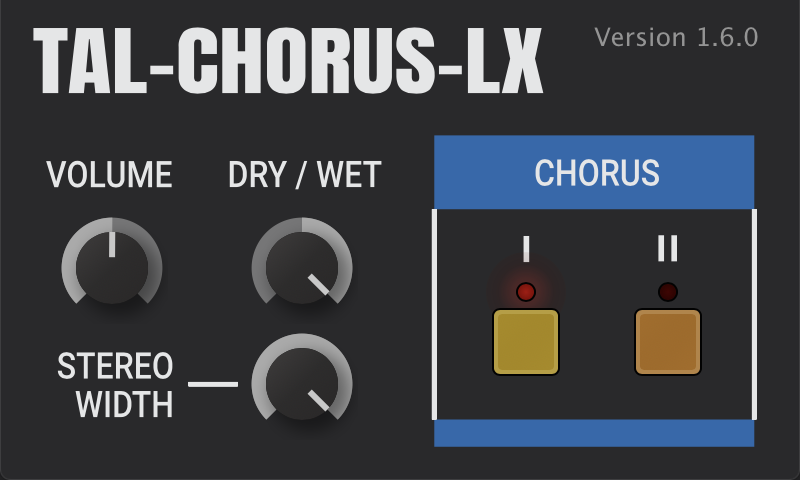 Video Demo of the TAL-Chorus-LX:
---
For Reaper Users:
There are 4 built in chorus JS effects in Reaper: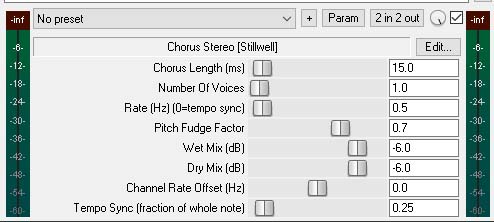 Also there is a really nice video created by Kenny Gioia on youtube showing how to use the built in delay and parameter modulation/MIDI link to create a chorus effect.