Free Compression VST: 5 Must have Plugins
Free VST Compression VSTs available for Reaper also JS plugins available exclusively to Reaper.
MCompressor
A powerful compressor with custom processing shape and many other unique features.
MCompressor provides refined compression. It features an adjustable compression shape, giving you the power to create dynamic sound effects, and a range of up-sampling options for a crystal clear sound.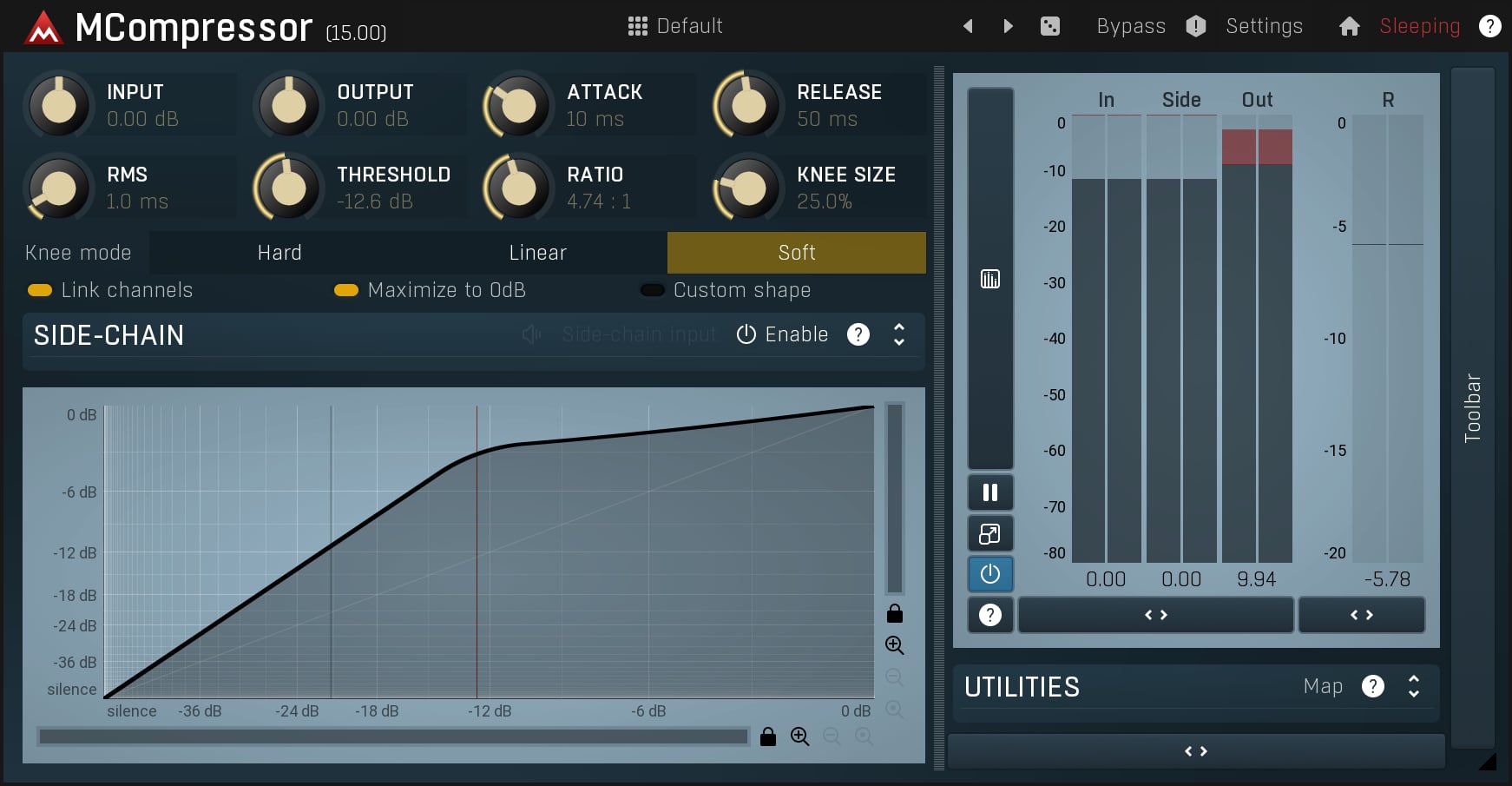 The MCompressor comes included in the:
The biggest and most powerful bundle of FREE effects available.
MFreeFXBundle contains a set of audio effects, which are completely free. Our commercial plugins offer many more features, but these are still extraordinary when compared to most plugins on the market. You can extend the features of these free plugins at any time by purchasing a licence.
---
D16 Frontier Free VST Compressor

Available for free
Frontier is available only for registered D16 software users, who have purchased any product in the past or will do it in the future. It is available free of charge.
Multitude of applications
Quality and performance makes Frontier a perfect tool for almost any studio situation. Its simple and clear interface in combination with excellent sound quality will surely be appreciated by any engineer looking for efficient way of controlling dynamics of a channel, bus or even master output. Frontier can be used as very transparent mixing / mastering limiter (at certain settings) with just licking the loudest amplitude peaks, or can be utilized more creatively, as sound shaper, when more extreme settings are at stake.


Self-adaptive
Algorithm for automatic gain makeup used in Frontier automatically normalizes the signal's volume after it passes limiting section. It contributes to efficiency boost of setting the plug-in up.

Release your creativity
Mind that Frontier is not just simple a limiter. With selectable Control Input and optional Soft Clipping you get in your hands a quite versatile and creativity-releasing tool. Appropriately configured in your DAW Frontier can act as e.g. mono ducker (using Left or Right channel as control signal for the input feed). Or enabled soft-clip option in combination with more drastic settings will reveal Frontier's wave-shaping capabilities. Surely with time you'll find more and more applications for this useful unit.
Key Features
Configurable control input
Automatic output gain make up
Controllable release characteristic
Optional soft clip
Tag based preset browser
MIDI-learn functionality throughout
64bit internal processing
Free for registered D16 users
---
Rough Rider 3 Compressor
Our RoughRider compressor is one of the most popular dynamics processors on the planet, with well over a half a million downloads over its decade-plus lifespan, and is in heavy daily use by producers the world over. With RoughRider3, we've expanded the original to include an external sidechain input, the ability to turn off the built-in "warming" filter (the FULL BANDWIDTH button), and much more accurate metering.

---
TDR Kotelnikov
TDR Kotelnikov is a wideband dynamics processor combining high fidelity dynamic range control with deep musical flexibility. As a descendant of the venerable TDR Feedback Compressor product family, Kotelnikov has directly inherited several unique features such as a proven control scheme, individual release control for peak and RMS content, an intuitive user interface, and powerful, state of the art, high-precision algorithms.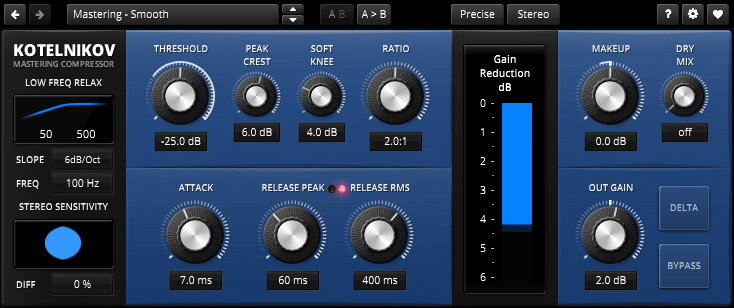 With a sonic signature best described as "stealthy", Kotelnikov has the ability to manipulate the dynamic range by dramatic amounts, while carefully preserving the original tone, timbre and punch of a musical signal. As such, it is perfectly suited to stereo bus compression as well as other critical applications.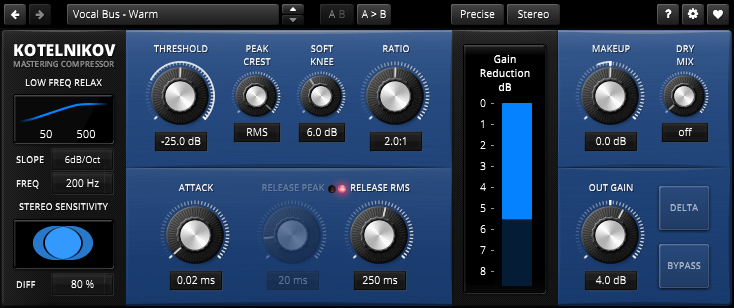 The concept is "proudly digital" in the sense that it doesn't try to emulate any previously existing device. This is the original!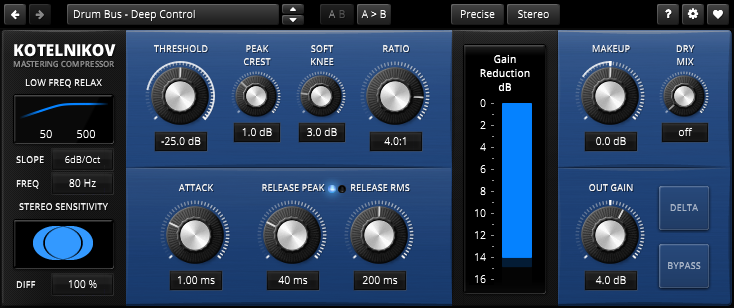 Key specs and features
64bit multi-rate processing structure for highest accuracy
"Delta" oversampled signal path (bit transparent at 0dB gain reduction)
Super fast, yet natural sounding compression
"Crest factor" based control scheme offering independent release controls for peak and RMS events
Flexible sidechain highpass filter
Advanced stereo linking options optimized for the stereo bus
Delta preview mode previews the difference between compressed and original signal
Latency compensated, click free bypass (i.e. processing never interrupted)
User interface rescaling (100%, 125%, 150%)
---
ReaComp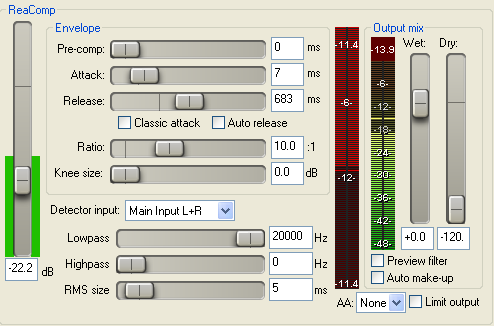 Already included within Reaper this is a really useful plugin to learn about compression: It's simple to use and get to grips with. A go to plugin for myself when I just want to get a simple job done.
This plugin is included in the Reaplugs suite of plugins which is a free download.
---
Reaper JS Conpression Plugins
Tukan: Tukantronix: LA1a Compressor:

NC76 – Compressor/Limiter:

Compressor 2: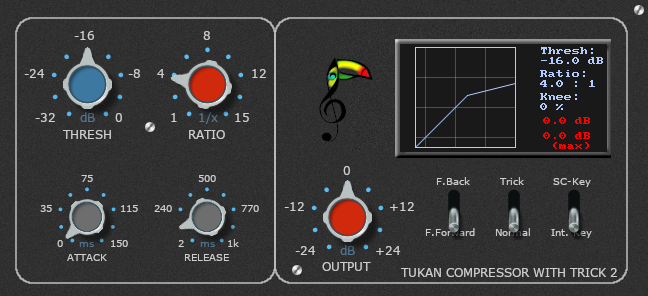 For more information on Tukan plugins and how to install. Go to the article below.