Free VST eq plugins
Reaper JS add EQ Plugins:
EQT-1a – EQ Plugin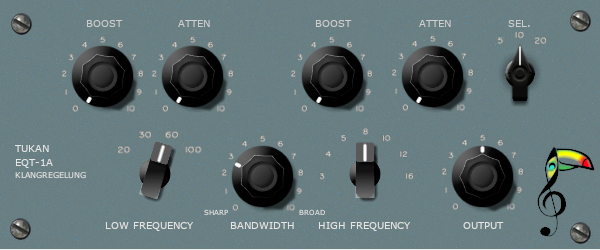 EQ1 – Equalizer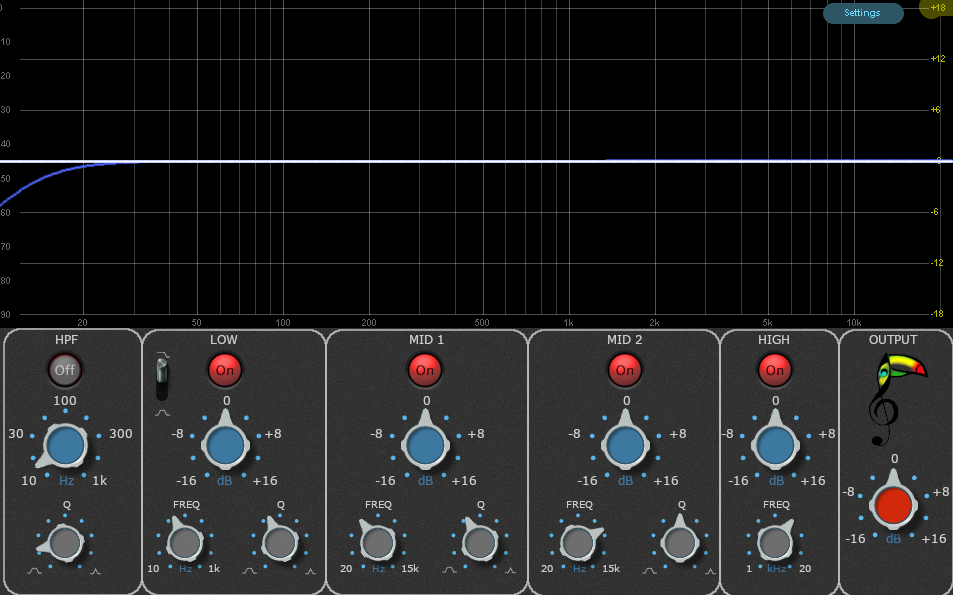 ---
Possibly not the ultimate list of the best free VST eq plugins but hopefully as it get's updated it will get close.
The following plugins are in no particular order, they're all available as free downloads
Please if you use free vst plugins of any flavour, support them in any way that you can, even the smallest donation will be appreciated. If you can't find a way to do this via their individual sites then try and contact them via email.
---
Reaper's Built in EQ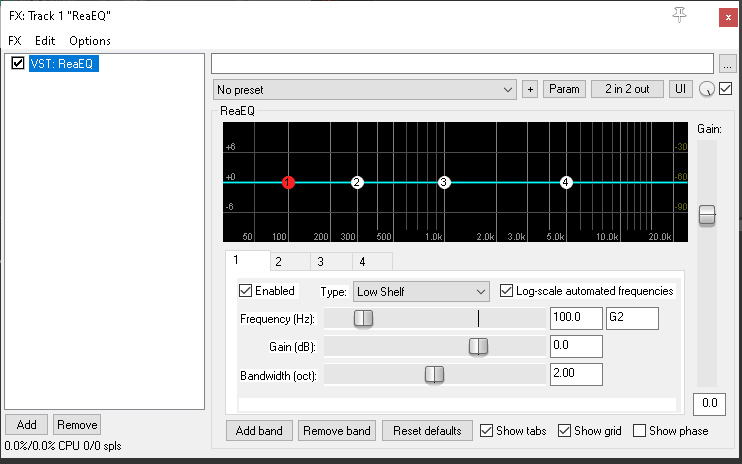 This plugin has become one of my go to EQ's and I have a lot. It's easy to use and for the beginner is perfect to learn on. If you don't have Reaper you can download it from here and use it with whichever DAW you prefer – Download ReaPlugs
Below is an excellent tutorial on the basics of this eq plugin.
Free EQ VST Plugins List
Download – Classic EQ VST Plugin
Classic EQ is a 7 Band Stereo Equaliser with a warm analog sound, well suited to make non-surgical tonal corrections on all instruments, vocals and final mixes. The passive and additive structure, together with unique "Warm" and "Saturation" algorithms, produces warm and pleasant sound, just like some of the most expensive vintage gear. The left and right channels can be adjusted individually or linked together.
Download – Classic EQ VST Plugin
———————————————————————————————————————————————–
Posihfopit – Free EQ Equalisation vst plugin – Scroll down to find!
The precursor to the 'Electric Q' this is a pretty easy to use equaliser vst plugin.
Just drag and shape your eq.
Although probably best if you understand what your dragging and shaping ahem.
Posihfopit – Free EQ Equalisation vst plugin – Scroll down to find!

———————————————————————————————————————————————–
Download/More Info – Pushtec Free EQ Plugin
This is a pretty cool VST plugin form Leftover Lasagne.
Needs a bit of work to understand, works in a similar way to the Pultec.
It is free but please if you find yourself using it please donate to the authors.
Remember they need to eat as well…
Download/More Info – Pushtec Free EQ Plugin
———————————————————————————————————————————————–
"Fast and easy" 7-band digital graphic equalizer.  It uses FIR filtering delivering a very nicely-sounding linear-phase equalization.  EssEQ uses 128 point filter kernel.  This plug-in is very good at quick frequency balance adjustments.
7-band harmonic (overtone) graphic equalizer with multi-channel operation support (supporting up to 8 input/output channels, host setup-dependent).  Overtone GEQ offers extensive internal channel routing capabilities, and supports mid/side channel processing.
———————————————————————————————————————————————–
Also can be found as part of the Blue Cat Freeware Plugin Pack
Blue Cat's Triple EQ is a 3 bands semi-parametric equalizer that can be controlled as a single filter with customizable shape. It includes a low shelf filter, a high shelf filter and a boost/cut peak filter. Its wide range of gain (+/-40 dB per band) and bandwidth (.01 to 5 Octave) makes it very versatile to create any filter shape. The three filters are linked together so that when you change the center frequency or the bandwidth, the parameters of the three filters are modified accordingly: you can control the entire equalizer characteristics with a single mouse click.
———————————————————————————————————————————————–
FREE QUEUE EQ PLUGIN: Another excellent addition to your free VST plugins folder from VescoFX.
This free VST plugin is an equalizer. The sound of this EQ will very much remind you of many classic analog designs. You get access to four bands of equalization with two shelving filters and two peaking filters, a design which matches that of many sought after high-end console equalizers. Many mix recipes are included as saved settings which can be loaded through your VST host.
Download it here for free
———————————————————————————————————————————————–
EQ Killer – Free VST Plugin,
'EQ Killer is a switchable EQ module vst plugin in the style of DJ "Kill Switches".
There are 3 adjustable bands of EQ (Hi, Mid& Lo).'
Pretty nifty simple eq form Scuzzphut
Download for free here
———————————————————————————————————————————————–
The Linear Phase Graphic EQ 2 by Slim Slow Slider is  a free VST plugin comes in two different flavours but actually seem to be the same effect, maybe I'm missing something?
Anyway the controls are quite simple the frequency adjustment in the graphic equalizer stage itself are adjusted by a simple drag using the mouse.
I really like the dragging control for some reason,whilst you adjust as you click on the 'screen' the freq and gain amount are shown below.
Free VST Plugin – Linear Phase Graphic EQ 2
Other controls include:
Reset, MasterGain and Bandwidth.
There's also a Compare button.
Free VST Plugin – Linear Phase Graphic EQ 2(Mastering)
Download for free here
This is a really nifty equalizer vst plugin that seems to have quite a small CPU load.
How it compares with other VST eqs is up to your ears really.
Try it out here
———————————————————————————————————————————————–
KarmaFX Plugin Pack is a collection of quality effect plugins that are small, simple and easy to use. Plugins that simply get the job done without too much knob tweaking.

The pack includes a simple filter plugin, a tempo controlled delay, a 31 band graphic equalizer, a reverb and a User's manual.
Check out the sound demos and view the full specs below.
———————————————————————————————————————————————–
NyquistEq – Free EQ Vst Plugin Effect is part of Magnus's plugin range available to download at Smartelectronix
You'll need to scroll down Marcus's page there to find it.
Parametric graphic equalizer with excellent response all the way up to Nyquist. It never clicks, and it handles deep bass well too. The Nyquist frequency is the highest representable frequency for a given sample rate. The trebliest of the treble. Most other digital eqs have great problems producing a natural sound here.
———————————————————————————————————————————————–
Hopefully some of these Free Plugins will add to your mixing arsenal. This list will be updated as new Equalizer plugins become available.