Some great Free Free Delay VST plugins to download
Get these fantastic Free Delay VST plugins listed below for your projects.
Install for dll
install from exe
Install for Windows
---
ValhallaFreqEcho
Freq Echo is perfect for dub, Dr. Who, and all of your psychedelic needs.
Bode-Style Frequency Shifter + Analog Echo Emulation create surprising sonic effects. Subtle chorusing and double tracking to barberpole phasing and flanging to endless glissandos and runaway echos.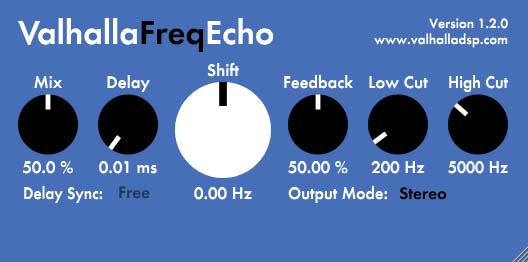 Get the free delay plugin here
---
Kilohearts Delay
While large echoing cavernous chambers seldom are the first pick for a good acoustic space, Delay effects have been ubiquitous in sound processing for a long time.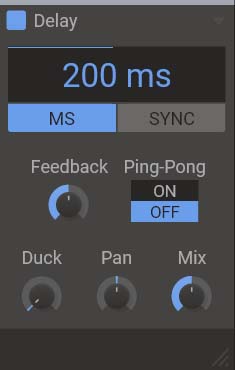 The kHs Delay can be run both free running and tempo synced with various stereo and feedback options. Most notable however is the duck feature, which optionally only lets the echoed sound through when there is no dry input signal. This allows for long and heavy delay while still avoiding clutter over the original sound. Clever!
Download free here
---
TAL free delay vst plugins
TAL-Dub
TAL-Dub is a vintage style delay effect. It can be used for a wide range of delay effects from clean to extreme distorted, resonating never ending delays 🙂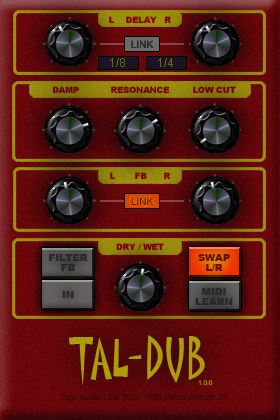 TAL-Dub II
TAL-DUB-II is an extended version of TAL-Dub-I with a completely new sound engine. A 4x oversampled distortion stage allows to add vintage distortion to the delayed signal, but its also possible to make clean delays.
A sinus LFO has the possibility to modulate delay time and low pass filter cutoff. Adjustable LFO stereo width is also included.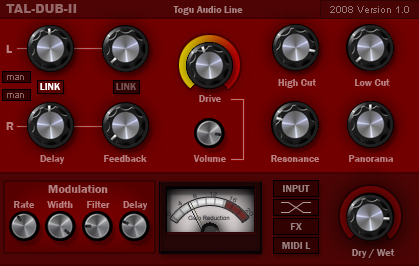 An analog sounding 6dB low pass filter with resonance and a 3dB high cut filter are also parts of TAL-DUB-II. Different routing options open a wide range of possibilities.
TAL-Dub-3
TAL-DUB-III is an easy to use delay device with some special features. Its no tape delay emulation and has its own sound. It has an alias free saturation stage, a non-linear 6dB low pass and a 3dB high pass filter that are included in the feedback path of the device. An input drive knob allows to adjust the saturation level. Pop-up menues show the current values of volume, delay-time and feedback knobs. A tab button allowing to adjust the delay time for live sessions.



Download all three free delay plugins here.
---
Voxengo Tempo Delay
Stereo delay
Ping-pong stereo delay
Filter delay effects
Tempo Delay is a multi-feature stereo delay AAX, AudioUnit, and VST plugin for professional sound and music production applications.  Tempo Delay is based on tempo, incorporating filter and tremolo sections with separate controls for each stereo channel.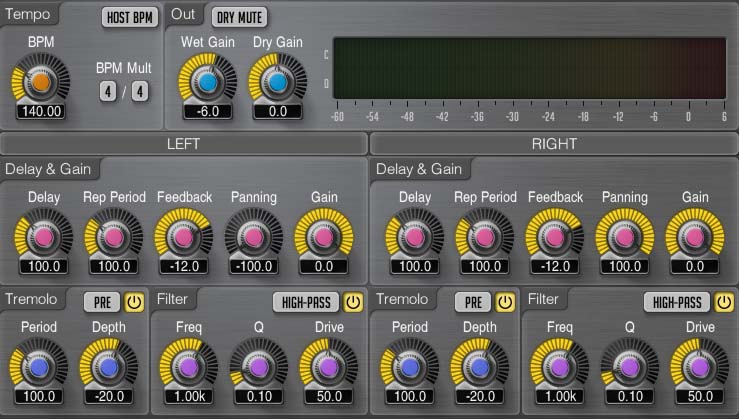 Instead of a single "delay time" control this plugin features separate "delay", "repetition period", and "delay panning" controls which allow you to create an evenly sounding "ping-pong" stereo echoes.
Get it here for free
---
Available for free with Reaper or as part of a free vst plugin suite
ReaDelay
Excellent free VST plugin that comes built into Reaper. Simple and effective. One of my go to VSTs when I want to create something quick.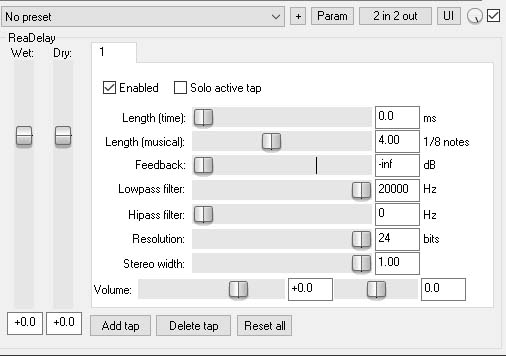 Multi-tap delay, no practical limit on tap count
Up to 10 second delay per tap
Tap lengths can be in time (s/ms) or quarter notes
Feedback, LPF/HPF, resolution reduction per tap
Stereo width per tap
Volume/pan per tap