Beginners Acoustic Guitars for Christmas 2021
That first guitar is always special, it's an amazing gift to give or receive. Beginners acoustic guitars this year gives us a lot of choices.
If you are looking for help with choosing and beginners electric guitar please click.
Size for Students beginners guitar.
Skip to Adults and Children Over 12
Choosing the correct size of guitar is important. Children under the age of 12 should be looking at 3/4 size guitars. Not all 12 year olds are the same size though so you should factor that in. 3/4 size nylon acoustics benefit from a good entry point cost.
The problem with going too cheap is that build quality will suffer. That will itself present problems for the student and possibly lead to frustration with themselves rather than the instrument itself.

This guitar seems to tick all the right boxes. At £69.99 it's a good price nd it comes with some accessories. Cases at this price point don't tend to be that well made but the guitar seems well made for the price. Reviews are also positive with it receiving 4.6 out of 5 stars on amazon.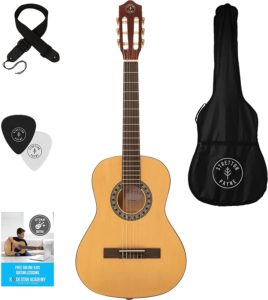 ---
Martin Smith W-560 3/4 Size 36-inch Classical Guitar – Natural £39.99

Martin Smith are ok for beginners. Nylon string guitars are probably a safer investment than their steel string guitars which can need some setting up, especially for the fresh student.
---
Adults and Children over 12
---
Yamaha F310 – Full Size Steel String Acoustic Guitar
Traditional Western Body – Natural
My recommended choice for full size guitar for the beginner.
The F310 is a reliable guitar that can be your guitar for several years in to your learning experience. Always well made and always trustworthy.
---
Donner Guitar Acoustic Full Size 4/4 Guitar Cutaway
Beginner Adult Guitar 41 inch Kit with Gig Bag Tuner Strap Strings Capo Picks(Black)
A few months ago one my students brought the Matt Black version of this guitar to his lesson. Article here. The case name registered but while I tuned the guitar I didn't clock the name on the headstock. I was actually taken aback at how playable this guitar is.
---
Tanglewood Crossroads TWCR D Acoustic Guitar
The Tanglewood Crossroads guitar is truly stunning for the price. A little difficult to find although it can be found on ebay from time to time. If it was easier to locate then it would beat the F310 for most recommended.