Download every sample pack for free
Free Sample Packs from Slate Digital until Jan 01
Slate Digital are excited to announce that every sample pack we make is now 100% free to download until Jan 1—including 4 brand-new packs covering modern R&B, Pop, Ambient Electronic, and modern Guitar.
All royalty-free, all ready to drop into your tracks today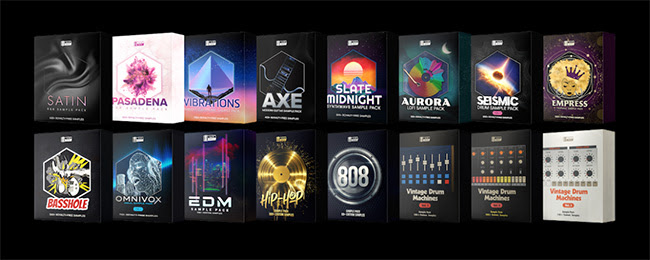 These Sample Packs will inspire your next track by putting the world's best musicians at your fingertips. Get thousands of grooves, hits, one-shots, vocal chops, melodies, guitars, keyboards, drums & more to accelerate your creative process
Free Sample Packs from Slate Digital until Jan 01
Slate Digital work with the best musicians in the industry. Top session players, powerhouse vocalists, and international sensations. We record them in an environment designed to bring out their best performances, then our legendary producers get to work.
Slate Digital slice, dice, process, and extract these tracks until they're the kind of samples we get excited about using in our own productions.
All 100% Royalty-free, and all free to download until Jan 1
Also Free to Download – Brainworx bx_masterdesk classic
---
Here are just a few of the Sample Packs waiting for you:
SATIN R&B Pack NEW
The sultry sounds of modern R&B as you've never heard them. Guitar riffs dripping with personality, and the famous Rhodes keyboard used by Columbia Records' Hollywood Studios. One of our favorite sample packs of all time.
PASADENA Pop Pack NEW
Pure pop magic in a bottle. Get tons of readymade song starters with melodic guitar hooks, piano & synth loops and full-stack chord progressions. Includes tons of live & electronic drums brimming with vibe. Build songs that'll stick in your listeners' heads with PASADENA.
VIBRATIONS Ambient Pack NEW
Nearly 500 samples of atmospheric overload. Add instant drama to your music with otherwordly landscapes, cinematic atmospheres, and downtempo grooves. Open new dimensions in your music with the rich textures of VIBRATIONS.
AXE Guitar Pack NEW
Our ultimate guitar pack is now yours. From soulful nylon to high-energy Rock, timestretched Hip-Hop to in-your-face Metal, AXE delivers a universe of natural & warped guitar tones to make your next hit come alive.
SLATE MIDNIGHT Synthwave
Our epic Synthwave collection of drums, synth and melody samples. This love letter to the 80's will have you cooking up some stranger things in no time.
AURORA Lofi
Study beats & Lofi galore—drum, vocal, & melody samples full of vintage vibe and analog warmth. Dusty, warped & degraded just for you.
OMNIVOX
750+ vocal samples, including one shots, loops, chops, hooks, riffs, runs, reverses, and more.
EMPRESS Trapsoul
Soulful vocals, detailed melodies, hard-hitting drums and signature 808s, with 50 jazzy and soul-soaked MIDI progressions.
Hip-Hop Pack
Over 500 thick, hard-hitting drums, melodies, 808s, MIDI clips and more for constructing the most potent Hip-Hop beats possible.
EDM Pack
More than 500 melodic loops, vocal chops, FX, drums and MIDI files to produce back-to-back killer tracks.
SEISMIC Drums
Hundreds of massive, wall-rattling kicks, punchy snares and sparkly hi-hats, plus percussion grooves from around the world.
BASSHOLE
Groovy electric basslines played by some of the best session bassists in the world, a collection of trunk-rattling 808s, and smooth synth basses.