Reaper Drum Maps for Kontakt's Abbey Road Modern Drummer
Sparkle Drum Kit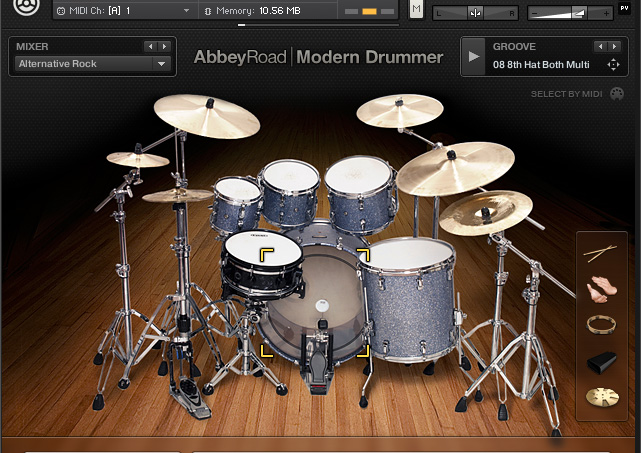 White Drum Kit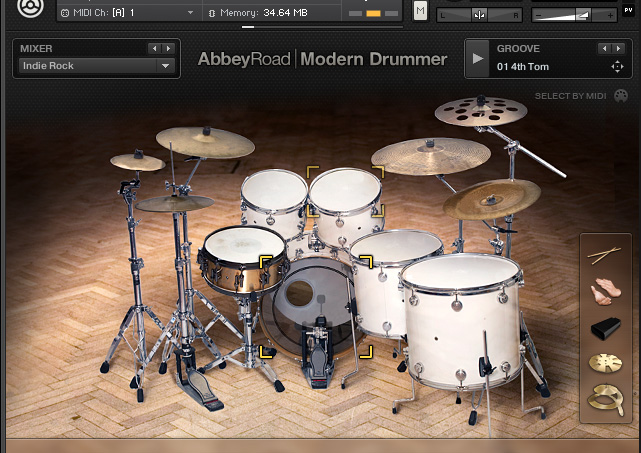 ---
Install Drum Map for Reaper – Save files to your keymaps folder.
---
Options->Show REAPER resource path in explorer/finder
Find 'MIDINoteNames' folder
Save or Copy file to this folder.
To load keymap:
In Piano Roll:
File->Note/CC Names->Load note/CC names from file
If file not saved to 'MIDINoteNames' folder use 'choose file' to find file.
Once loaded the names on the piano roll will change.
---
Additional Options/Info:
---
View->Mode: named notes
View->Piano Roll Notes->Diamonds(drum mode)
View->Show/hide note rows->Hide unused and unnamed note rows
---
With the power of STUDIO DRUMMER, ABBEY ROAD | MODERN DRUMMER puts world-class contemporary drums at your fingertips. Two premium drum kits, recorded at the legendary Abbey Road Studios, deliver powerful, versatile drums for contemporary rock and pop – well-rounded, detailed, with a crisp, airy top-end and a perfectly-formed low-end with plenty of sub-bass. Command your own session drummer in the form of a well-stocked, versatile Groove Library, and fine-tune your submix with the detailed Mixer Section and class-A studio effects.
ABBEY ROAD | MODERN DRUMMER runs in the free KONTAKT PLAYER and KONTAKT.
---
Abbey Road Modern Drummer Sparkle Kit – Notes and Names:
---
*Copy and Paste into Note Pad to make your own file*
# MIDI note/CC name map
103 Snare Splash On
102 Snare Splash Rim
101 Snare Splash Off
100 Tom 1 CTR r
98 Tom 1 CTR L
97 Hhat Clsd Shank L
96 Tom 2 CTR R
95 Tom 2 CTR L
94 Hhat Clsd Shank L
93 Tom 2 CTR R
92 HiHat Clsd Tip R
91 Tom 3 CTR L
90 HiHat Clsd Tip L
89 Tom 4 CTR R
88 Tom 4 CTR L
87 HiHat Clsd Tight Tip R
86 Snare Halfway R
85 HiHat Clsd Tight Tip L
84 Snare Halfway L
83 Snare CTR R
82 Kick Half Open
81 Snare CTR L
80 Hihat Open Full
79 HiHat Open Loose
78 HiHat Open 3/4
77 Hihat Open 1/2
76 HiHat Open 1/4
75 Tom Rim Only
74 Tom 2 Rim Only
73 Tom 3 Rim Only
72 Tom Rim Only
71 Tom 1 Rimshot
70 Hihat Open Pedal
69 Tom 2 Rimshot
68 HiHat Clsd SHank
67 Tom3 Rimshot
66 HiHat Clsd Tight Tip
65 Tom 4 Rim
64 Snare Wires Off
63 Snare Roll
62 Snare Flam
61 Snare Rim Only
60 Kick Open
59 Splash Edge
58 China Tip
57 China Edge
56 Crash 2 Bell
55 Crash 2 Edge
54 Crash 2 Tip
53 Ride Bell
52 Ride Edge
51 Ride Tip
50 Crash 1 Bell
49 Crash 1 Edge
48 Crash 1 Tip
47 Tom 1 CTR LR
46 HiHat Open
45 Tom 2 CTR L R
44 HiHat Closed Pedal
43 Tom 3 CTR L R
42 HiHat Closed Tip
41 Tom 4 CTR L R
40 Snare Half L/R
39 Snare Rimshot
38 Snare CTR L/R
37 Snare Sidestick
36 Kick Damp
35 Sticks Hi
34 Claps Multi
33 Claps Solo
32 Tamb Shake
31 Tamb Tap
30 Chopper Mid
29 Chopper Hi
28 Chopper Mid
27 Chopper Low
---
Abbey Road Modern Drummer White Kit – Notes and Names:
---
*Copy and Paste into Note Pad to make your own file*
# MIDI note/CC name map
100 Tom 1 CTR R
98 Tom 1 CTR L
97 Hhat Clsd Shank L
96 Tom 2 CTR R
95 Tom 2 CTR L
94 Hhat Clsd Shank L
93 Tom 3 CTR R
92 HiHat Clsd Tip R
91 Tom 3 CTR L
90 HiHat Clsd Tip L
89 Tom 4 CTR R
88 Tom 4 CTR L
87 HiHat Clsd Tight Tip R
86 Snare Halfway R
85 HiHat Clsd Tight Tip L
84 Snare Halfway L
83 Snare CTR R
82 Kick Half Open
81 Snare CTR L
80 Hihat Open Full
79 HiHat Open Loose
78 HiHat Open 3/4
77 Hihat Open 1/2
76 HiHat Open 1/4
75 Tom 1 Rim Only
74 Tom 2 Rim Only
73 Tom 3 Rim Only
72 Tom 4 Rim Only
71 Tom 1 Rimshot
70 Hihat Open Pedal
69 Tom 2 Rimshot
68 HiHat Clsd SHank
67 Tom3 Rimshot
66 HiHat Clsd Tight Tip
65 Tom 4 Rim
64 Snare Wires Off
63 Snare Roll
62 Snare Flam
61 Snare Rim Only
60 Kick Open
59 Splash Edge
58 China Tip
57 China Edge
56 Crash 2 Bell
55 Crash 2 Edge
54 Crash 2 Tip
53 Ride Bell
52 Ride Edge
51 Ride Tip
50 Crash 1 Bell
49 Crash 1 Edge
48 Crash 1 Tip
47 Tom 1 CTR LR
46 HiHat Open
45 Tom 2 CTR L R
44 HiHat Closed Pedal
43 Tom 3 CTR L R
42 HiHat Closed Tip
41 Tom 4 CTR L R
40 Snare Half L/R
39 Snare Rimshot
38 Snare CTR L/R
37 Snare Sidestick
36 Kick Damp
35 Sticks Hi
34 Claps Multi
33 Claps Solo
32 Spiral Mallet
31 Spiral Stick
30 Cowbell Hi Muted
29 Cowbell Hi Open
28 Cowbell Low Muted
27 Cowbell Low Open