Reaper Drum Maps for Kontakt's Abbey Road Studio Drummer
Garage Drum Kit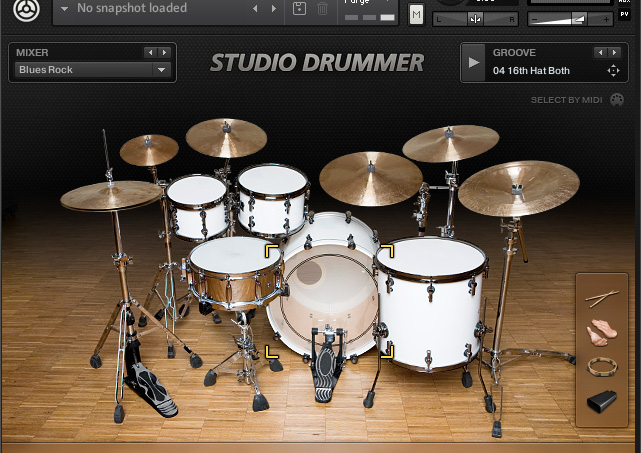 Session Drum Kit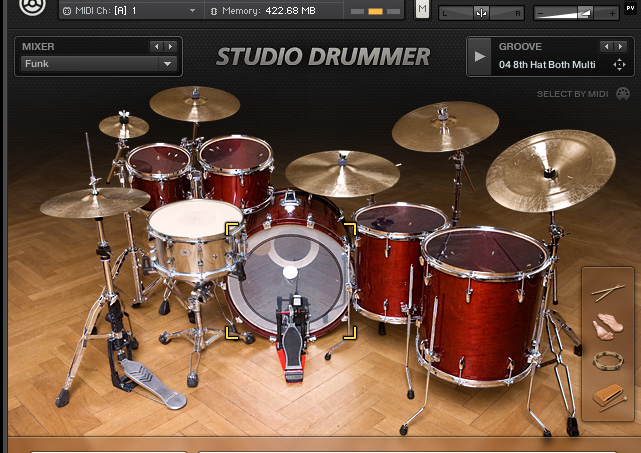 Stadium Drum Kit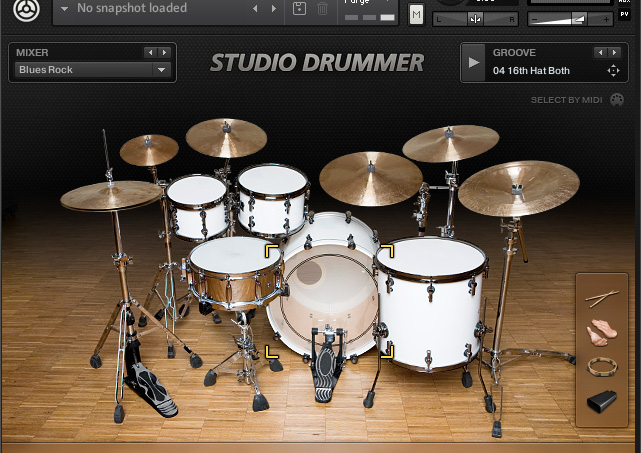 ---
Install Drum Map for Reaper – Save files to your keymaps folder.
---
Options->Show REAPER resource path in explorer/finder
Find 'MIDINoteNames' folder
Save or Copy file to this folder.
To load keymap:
In Piano Roll:
File->Note/CC Names->Load note/CC names from file
If file not saved to 'MIDINoteNames' folder use 'choose file' to find file.
Once loaded the names on the piano roll will change.
---
Additional Options/Info:
---
View->Mode: named notes
View->Piano Roll Notes->Diamonds(drum mode)
View->Show/hide note rows->Hide unused and unnamed note rows
---
THE NEW STANDARD FOR DRUMS
STUDIO DRUMMER is the perfect realization of a drummer in software, with everything you need to create realistic acoustic drum tracks — top-of-the-line drum kits, detailed mixing options, and a ready-to-go groove library, packed with authentic beats of all colors and flavors.
It's much more than state-of-the-art sampled drums. Thanks to more than 3,300 authentic grooves, STUDIO DRUMMER makes it easy for anyone to produce lifelike, dynamic drum tracks. And the on-board mixer and powerful effects deliver enough usability, versatility and tweakability to meet the demands of eclectic modern producers.
STUDIO DRUMMER gives you three premium acoustic kits — a Pearl Masters Premium Maple kit, a Yamaha Maple Custom Absolute kit and a Sonor SQ2 Drum System. The kits are set up with Paiste, Zildjian, Sabian and Masterworks cymbals, and snares by Sonor, Mapex, Ludwig, and Masshoff. To round things off, you also get percussion, with tambourine, sticks, cowbell and handclaps.
All drums were painstakingly recorded using the best mics and outboard gear at Teldex Studios, in Berlin. The result: Over 17 GB of pristine, 24-bit drum samples, capturing the unique sound and responsiveness of the original kits.
Behind the glass, STUDIO DRUMMER provides a dedicated mixing environment. All drums close mic'd, plus adjustable snare bleed, stereo overheads, room mics for ambience and an additional mono mic on the entire kit. Mixer presets, with precision mic levels, room sound and effects, provide fast-track settings for a wide range of sounds.
A high-quality studio effects section gives you warm tape saturation, convolution reverb and three big-league effects: the SOLID G-EQ, the SOLID BUS COMP compressor and the awe-inspiring TRANSIENT MASTER.
---
Abbey Road Studio Drummer Garage Kit – Notes and Names:
---
*Copy and Paste into Note Pad to make your own file*
# MIDI note/CC name map
100 Tom 1 CTR R
98 Tom 1 CTR L
97 Hhat Clsd Shank L
96 Tom 2 CTR R
95 Tom 2 CTR L
94 Hhat Clsd Shank L
93 Tom 3 CTR R
92 HiHat Clsd Tip R
91 Tom 3 CTR L
90 HiHat Clsd Tip L
89 Tom 3 CTR R
88 Tom 3 CTR L
87 HiHat Clsd Tight Tip R
86 Snare Halfway R
85 HiHat Clsd Tight Tip L
84 Snare Halfway L
83 Snare CTR R
82 Kick Half Open
81 Snare CTR L
80 Hihat Open Full
79 HiHat Open Loose
78 HiHat Open 3/4
77 Hihat Open 1/2
76 HiHat Open 1/4
75 Tom 1 Rim Only
74 Tom 2 Rim Only
73 Tom 3 Rim Only
72 Tom 3 Rim Only
71 Tom 1 Rimshot
70 Hihat Open Pedal
69 Tom 2 Rimshot
68 HiHat Clsd SHank
67 Tom3 Rimshot
66 HiHat Clsd Tight Tip
65 Tom 4 Rim
64 Snare Wires Off
63 Snare Roll
62 Snare Flam
61 Snare Rim Only
60 Kick Open
59 Splash Edge
58 China Tip
57 China Edge
56 Crash 2 Bell
55 Crash 2 Edge
54 Crash 2 Tip
53 Ride Bell
52 Ride Edge
51 Ride Tip
50 Crash 1 Bell
49 Crash 1 Edge
48 Crash 1 Tip
47 Tom 1 CTR LR
46 HiHat Open
45 Tom 2 CTR L R
44 HiHat Closed Pedal
43 Tom 3 CTR L R
42 HiHat Closed Tip
41 Tom 3 CTR L R
40 Snare Half L/R
39 Snare Rimshot
38 Snare CTR L/R
37 Snare Sidestick
36 Kick Damp
35 Sticks Hi
34 Claps Multi
33 Claps Solo
32 Tamb Shake
31 Tamb Tap
30 Cowbell Hi Muted
29 Cowbell Hi Open
28 Cowbell Low Muted
27 Cowbell Low Open
---
Abbey Road Studio Drummer Session Kit – Notes and Names:
---
*Copy and Paste into Note Pad to make your own file*
# MIDI note/CC name map
100 Tom 1 CTR R
98 Tom 1 CTR L
97 Hhat Clsd Shank L
96 Tom 2 CTR R
95 Tom 2 CTR L
94 Hhat Clsd Shank L
93 Tom 3 CTR R
92 HiHat Clsd Tip R
91 Tom 3 CTR L
90 HiHat Clsd Tip L
89 Tom 3 CTR R
88 Tom 4 CTR L
87 HiHat Clsd Tight Tip R
86 Snare Halfway R
85 HiHat Clsd Tight Tip L
84 Snare Halfway L
83 Snare CTR R
82 none
81 Snare CTR L
80 Hihat Open Full
79 HiHat Open Loose
78 HiHat Open 3/4
77 Hihat Open 1/2
76 HiHat Open 1/4
75 Tom 1 Rim Only
74 Tom 2 Rim Only
73 Tom 3 Rim Only
72 Tom 4 Rim Only
71 Tom 1 Rimshot
70 Hihat Open Pedal
69 Tom 2 Rimshot
68 HiHat Clsd SHank
67 Tom3 Rimshot
66 HiHat Clsd Tight Tip
65 Tom 4 Rim
64 Snare Wires Off
63 Snare Roll
62 Snare Flam
61 Snare Rim Only
60 Kick Open
59 Splash Edge
58 China Tip
57 China Edge
56 Crash 2 Bell
55 Crash 2 Edge
54 Crash 2 Tip
53 Ride Bell
52 Ride Edge
51 Ride Tip
50 Crash 1 Bell
49 Crash 1 Edge
48 Crash 1 Tip
47 Tom 1 CTR LR
46 HiHat Open
45 Tom 2 CTR L R
44 HiHat Closed Pedal
43 Tom 3 CTR L R
42 HiHat Closed Tip
41 Tom 4 CTR L R
40 Snare Half L/R
39 Snare Rimshot
38 Snare CTR L/R
37 Snare Sidestick
36 Kick Damp
35 Sticks Hi
34 Claps Multi
33 Claps Solo
32 Tamb Shake
31 Tamb Tap
30 Woodblock
29 Woodblock
28 Woodblock High
27 Woodblock High
---
Abbey Road Studio Drummer Stadium Kit
---
*Copy and Paste into Note Pad to make your own file*
# MIDI note/CC name map
100 Tom 1 CTR R
98 Tom 1 CTR L
97 Hhat Clsd Shank L
96 Tom 2 CTR R
95 Tom 2 CTR L
94 Hhat Clsd Shank L
93 Tom 3 CTR R
92 HiHat Clsd Tip R
91 Tom 3 CTR L
90 HiHat Clsd Tip L
89 Tom 4 CTR R
88 Tom 4 CTR L
87 HiHat Clsd Tight Tip R
86 Snare Halfway R
85 HiHat Clsd Tight Tip L
84 Snare Halfway L
83 Snare CTR R
82 none
81 Snare CTR L
80 Hihat Open Full
79 HiHat Open Loose
78 HiHat Open 3/4
77 Hihat Open 1/2
76 HiHat Open 1/4
75 Tom 1 Rim Only
74 Tom 2 Rim Only
73 Tom 3 Rim Only
72 Tom 4 Rim Only
71 Tom 1 Rimshot
70 Hihat Open Pedal
69 Tom 2 Rimshot
68 HiHat Clsd SHank
67 Tom3 Rimshot
66 HiHat Clsd Tight Tip
65 Tom 4 Rimshot
64 Snare Wires Off
63 Snare Roll
62 Snare Flam
61 Snare Rim Only
60 Kick Open
59 Splash Edge
58 China Tip
57 China Edge
56 Crash 2 Bell
55 Crash 2 Edge
54 Crash 2 Tip
53 Ride Bell
52 Ride Edge
51 Ride Tip
50 Crash 1 Bell
49 Crash 1 Edge
48 Crash 1 Tip
47 Tom 1 CTR LR
46 HiHat Open
45 Tom 2 CTR L R
44 HiHat Closed Pedal
43 Tom 3 CTR L R
42 HiHat Closed Tip
41 Tom 4 CTR L R
40 Snare Half L/R
39 Snare Rimshot
38 Snare CTR L/R
37 Snare Sidestick
36 Kick Damp
35 Sticks Hi
34 Claps Multi
33 Claps Solo
32 Tamb Shake
31 Tamb Tap
30 Cowbell Muted
29 Cowbell Open
28 Cowbell Muted
27 Cowbell Open