$29.99 with create40
Spend $50 get 1 free
Spend $90 get 2 free
Spend $120 get 3 free
---
Wembley Arena. Grand Ole Opry. Sydney Opera House. CBGB's. Birdland. Want to record in the world's greatest venues? Now you can. IR1 puts the meticulously captured sound of these and many other renowned spaces in your hands. It lets you capture the sonic characteristics of your favorite rooms and hardware, and shape the reverbs with pinpoint precision. Everybody wants to play the big rooms. With the IR1, you're there.
---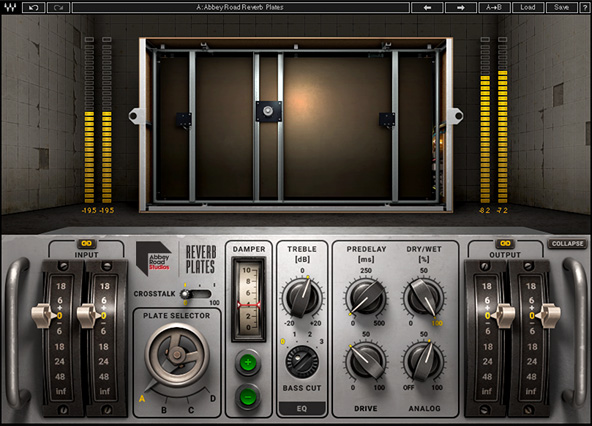 State-of-the-art modeling of the four legendary reverb plates housed at Abbey Road Studios and used on recordings by the Beatles, Pink Floyd and Radiohead.
Introduced in the 1950s, plate reverbs have been a fixture of recorded music ever since. Used most prominently in the '60s and '70s by pioneering bands, including the Beatles and Pink Floyd, Abbey Road Studios' original reverb plates were first installed in 1957 to complement the fixed reverberation times of the studios' echo chambers. These beautiful-sounding plates, with a variable reverb time of up to six seconds, were then tweaked to perfection by Abbey Road's technical engineers. To keep noise to a minimum, EMI's Central Research Laboratories designed unique hybrid solid-state drive amps for Plates A, B and C. Plate D was fully valve-powered on both drive and output stages, allowing a versatile array of sonic characteristics, from warm and dark to lush and smooth.
In each of these original plates, the stereo reverb effect is created by suspending a large sheet of metal with tensioned springs attached to each corner. A transducer injects the metal sheet with audio energy, which is picked up by two contact mics fixed to the surface of the plate. The reverb time can then be adjusted by using an internal damper, and all of this is contained within a large wooden unit.
These historic Abbey Road plates have been used on countless seminal pop, rock, classical and film recordings over the years, and continue to be used in all kinds of audio production to this day. Waves has now created meticulous models of these stunning and unique-sounding units, individually modeling the harmonic distortion of both the drive and output amps as well as the individual plate/damper behaviors.
---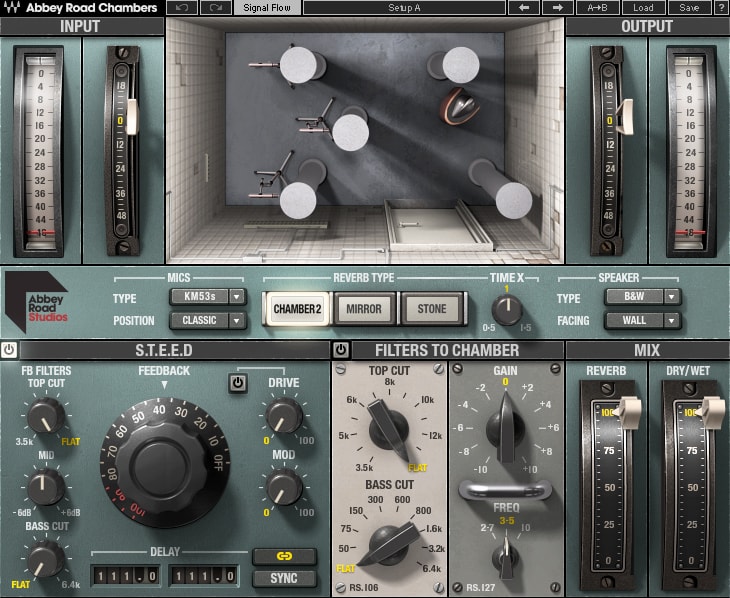 From beautiful natural chamber reverb to surging delay cascades, the rich sounds of the legendary Abbey Road Studio Two echo chamber are now at your fingertips, complete with Abbey Road's long-lost S.T.E.E.D. setup.
The Abbey Road Chambers plugin recreates a defining part of the studios' legendary sonic signature – the echo chamber used by Abbey Road's pop engineers to create exciting reverbs, delays and other unique spatial effects on countless classic recordings by the Beatles and beyond.
Developed together with Abbey Road Studios, Waves' Abbey Road Chambers puts you at the controls of the Studio Two echo chamber, complete with the original valve Neumann KM53 microphones and Altec 605 speaker, as used on almost every pop recording done at Abbey Road during the 60's.
Abbey Road Chambers also gives you an additional set of the original filters going into the chamber – EMI's RS106 hi/low pass filter and the EMI RS127 Presence EQ – to further sculpt the perfect chamber sound.
Also featured is a complete recreation of Abbey Road Studios' original S.T.E.E.D. (Send. Tape. Echo. Echo. Delay.) setup – a system designed to extend the chamber's natural sonic palette into new territories, by splitting the signal and creating a feedback loop from the studio's REDD console, through a dedicated tape delay, via RS106 and RS127 filters, and then to the chamber and back.
As a bonus, the plugin also includes two additional legendary spaces: Abbey Road's famed Mirror Room, and the Stone Room from Olympic Studios, London.
Abbey Road Chambers is designed in a modular fashion: You can send your tracks just to the chamber, or you can isolate just the S.T.E.E.D. effect, or you can combine both for the full range of sonic possibilities opened by the original Abbey Road setup.
From natural chamber reverb, to authentic tape delay, to complex hybrid effects – the door to the one-of-a-kind vintage acoustics of the Abbey Road chambers is finally open.