New Waves Plugin the SSL EV2 Channel
The Waves SSL EV2 Channel is a brand-new emulation of the classic SSL 4000E console channel strip, fully authorized by Solid State Logic. It uses new analog modeling technology to create a new level of analog richness and detail.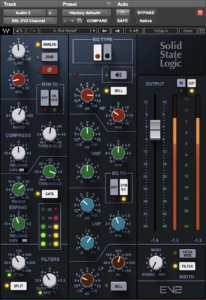 This is not a simple revision of the old Waves SSL E channel. It is a completely new plugin, re-modeled from the ground up.
New features
:
–The new Brown Knob – this is new to the SSL EV2, which was not available in the old Waves SSL E plugin. You can now choose between two classic _SSL EQ types, the 'O2' Brown knob and the '242' Black knob, for more versatile EQ flavors.
–The new Mic Preamp section – again, this is new to SSL EV2 and was not available in the old Waves SSL E plugin. It emulates the mic pre / line _amp section of the original SSL console, allowing you to drive the signal with variable saturation.
–Hundreds of presets by Grammy-winning producers & engineers – Jacquire King, Joe Barresi, Stuart White, Dave Pensado, Jack Joseph Puig, Tony _Maserati, Tom Lord-Alge, Lu Diaz, Rich Costey… the list goes on.
Get SSL EV2 for $29.99 with this limited-time coupon if you owned the SSL E or G Channel plugins prior to Nov. 15, 2021.
Get SSL EV2 free if you own the SSL 4000, Studio Classics, Pro Show or SD7 Pro Show bundles covered by the Waves Update Plan.
Early Bird Bonus Discounts:
30% off the 2nd plugin
40% off the 3rd plugin
50% off the 4th plugin & beyond
Discounted plugins are ordered by price from high to low. Abbey Road Studio 3 is excluded.
The SSL sound. Elevated.
Authorized by Solid State Logic, SSL EV2 is a brand-new recreation of the legendary SSL 4000E console channel strip. With new features including the original SSL 'O2' Brown EQ and the console's richly saturated mic pre and line inputs, SSL EV2 delivers a new level of analog depth and detail – an elevated take on the timeless SSL sound.
Recreated from the ground up using Waves' new Precision Analog Component® technology, SSL EV2 has been modeled component-by-component from a meticulously maintained reference console selected by Solid State Logic.
Alongside the classic dynamics and EQ controls, SSL EV2 introduces versatile new features. You can now switch between two iconic SSL EQ flavors: the Black Knob (242), delivering the SSL's famous clean punch; and the original Brown Knob (O2) – the first EQ developed for SSL E-Series consoles – providing a crunchy, gritty sound rich with character.
The newly modeled Line and Mic preamp input section gives you.
Rich harmonic distortion options, from gentle saturation to aggressive drive. You can engage THD (Total Harmonic Distortion) with the Analog switch – a key element in recreating the saturated analog console sound – or you can turn Analog off for a clean input.
The Dynamics section
Includes a soft-knee compressor/limiter and a gate/expander. You can place it before or after the EQ in your chain for more creativity and precision. As in the original hardware, makeup gain is applied automatically.
SSL EV2 comes loaded with over 600 presets
Including hundreds of presets by Grammy®-winning producers and mix engineers: Jacquire King, Stuart White, Joe Barresi, Lu Diaz, Dave Pensado, Rich Costey, Jack Joseph Puig, and many more.
From George Martin to Dr. Dre, David Bowie to Kendrick Lamar, the SSL sound is a cornerstone of the music industry. The SSL EV2 Channel brings you that legendary sound, elevated.
Brand new modeling of the classic SSL 4000E console channel strip
Authorized by Solid State Logic
 A New level of analog depth, richness and detail
New: Switch between the iconic Brown (O2) and Black (242) knobs
New mic pre/line section for rich harmonic saturation
Place Dynamics before or after EQ for more creativity and control
600+ presets by Grammy®-winning producers and mixers: Jacquire King, Stuart White, Joe Barresi, Dave Pensado, Lu Diaz, many more