IK Multimedia Sale
50% off in the IK Multimedia Sale.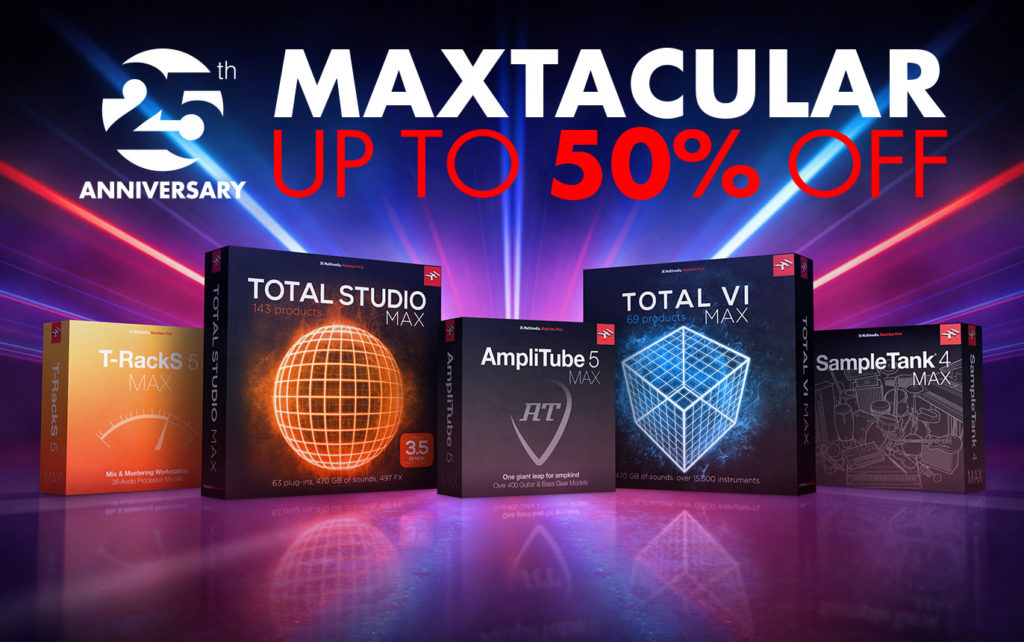 MAXtacular music software promotion – Up to 50% off new and select MAX bundles
Total VI MAX virtual instrument bundle
Total Studio 3.5 MAX bundle music production software bundle
More Deals:
Brainworx bx_masterdesk classic FREE!!!
Slate Digital Free Sample Packs
---
IK Multimedia Sale
T-Racks 5 Max
38 high-end audio processors, one amazingly low price
Welcome to the ultimate mixing and mastering suite for producers and studio professionals.
Powerful processing and effortless mixing and mastering are just a click away.
The T-RackS 5 MAX collection for Mac/PC comprises 38 superb modules that range from compressors and limiters to equalizers, channel strips, reverbs and more. All the gear has been modeled after some of the most sought-after production equipment of all time and chosen for its unique sonic character.
---
Amplitube 5 Max
AmpliTube 5.2 brings a more streamlined Custom Shop experience. Now you can simply browse the gear carousel on the right-hand side of AmpliTube's GUI or use the available drop-down menus to demo or unlock any gear you want.
---
Total Studio Max
The ultimate collection of authentic sounds and gear
Total Studio 3.5 MAX is the freshly updated and most extensive edition yet of our popular software suite for music creation. Version 3.5 adds SampleTron 2, all 4 virtual X-GEAR pedals for AmpliTube, 8 new SampleTank libraries and 6 new T-RackS modules to keep your collection maxed out!
With a massive 143 included products, Total Studio 3.5 Max covers every stage of music production: composing, producing, designing, mixing, mastering and playing. With over 470 GB of rich, authentic sounds plus 497 ultra-realistic FX, Total Studio 3.5 offers a complete solution for creating music in virtually any style.
---
Total VI Max
A massive collection of authentic sounds and instruments
Total VI MAX represents the most complete collection ever of virtual instruments by IK Multimedia. Ranging from bass and drums, to keyboards and orchestral sounds, everything in Total VI MAX is designed to inspire your creativity for making music. If you're looking for award-winning sounds and amazing value, it's all here.
---
Sampletank 4 Max
The new SampleTank 4 has been re-designed from the ground up to be every musician's "go to" workstation for music creation, with a completely new rescalable interface. A massively expanded sample library and a new cutting-edge sound engine with efficient disk streaming, to deliver more powerful music creation tools than you ever imagined. What might usually take dozens of plug-ins can be accomplished right inside SampleTank 4, for lightning-fast workflow that keeps your inspiration going.