Free Reaper Plugins: Tukan
Info available here: Free plugins for Reaper: Tukan https://stash.reaper.fm/v/43504/TUKANPLUGINS
Add the following to your Repositories in Reapack
https://raw.githubusercontent.com/TukanStudios/TUKAN_STUDIOS_PLUGINS/main/index2.xml
You will need to have ReaPack installed.
If you haven't then go to this link and follow the instructions:
Once done add the Repository link quoted above.
Add Repository – Free Reaper Plugins: Tukan
In Reaper.
(1) Extensions
(2) Reapack
(3) Import repositories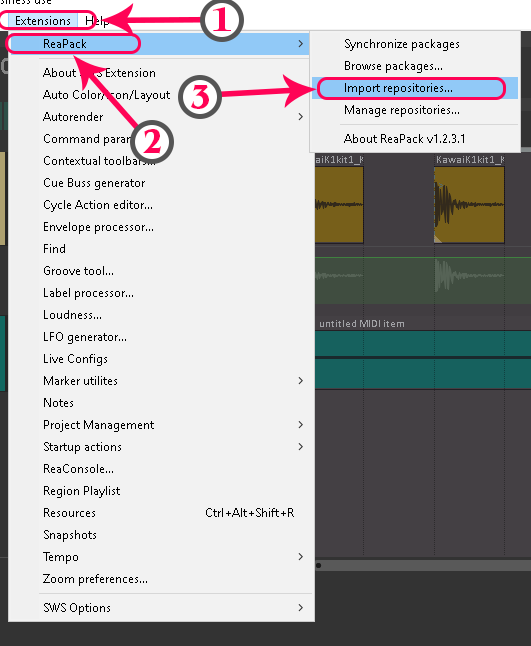 Import Repository link:
In the window copy and paste the link/text quoted below
https://raw.githubusercontent.com/TukanStudios/TUKAN_STUDIOS_PLUGINS/main/index2.xml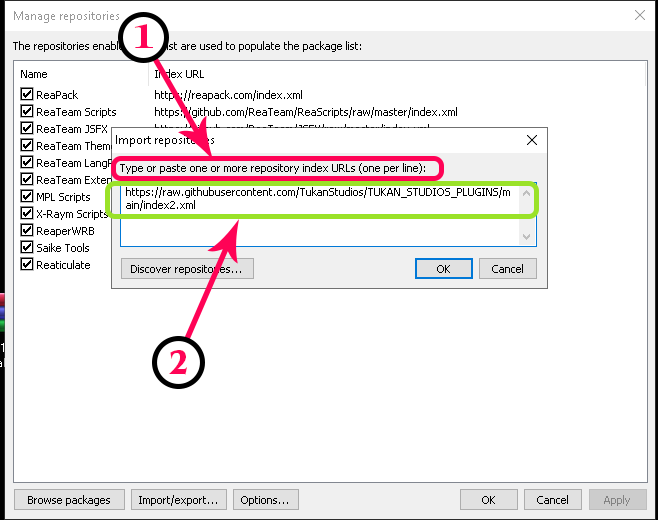 Synchronize Repository Packages:
Go to Extensions – ReaPack and Synchronize packages.

Install Free Reaper Plugins:
Go back to ReaPack and locate Browse Packages.
A window will open as shown below.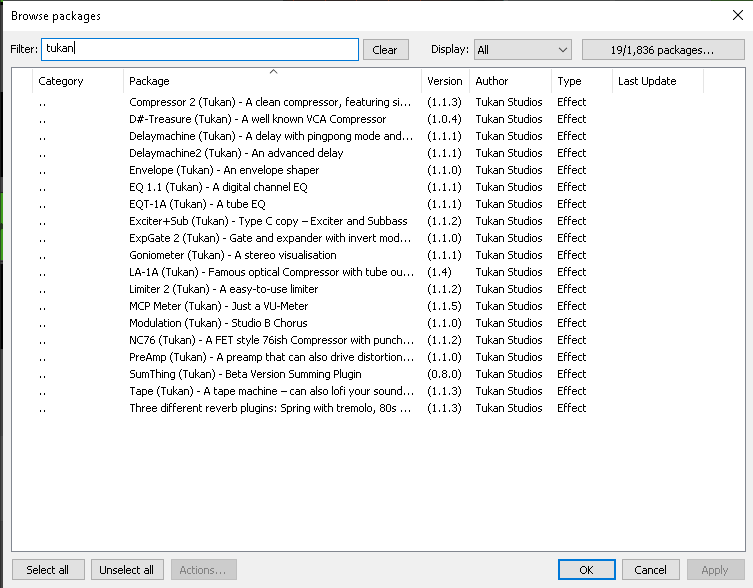 Install New Plugins: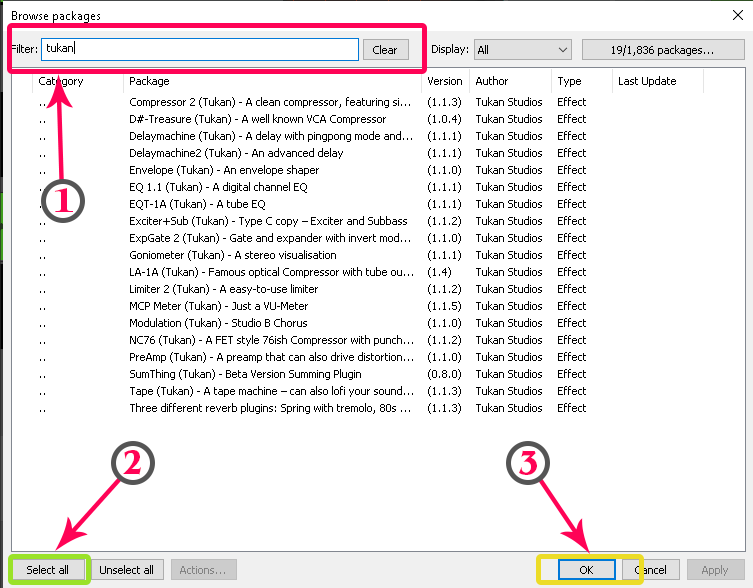 (1) In the Filter box type: Tukan
(2) Select All – You can select individual plugins – if you want you can select multiple items using ctrl and mouse left click.
(2a) Right Click to install.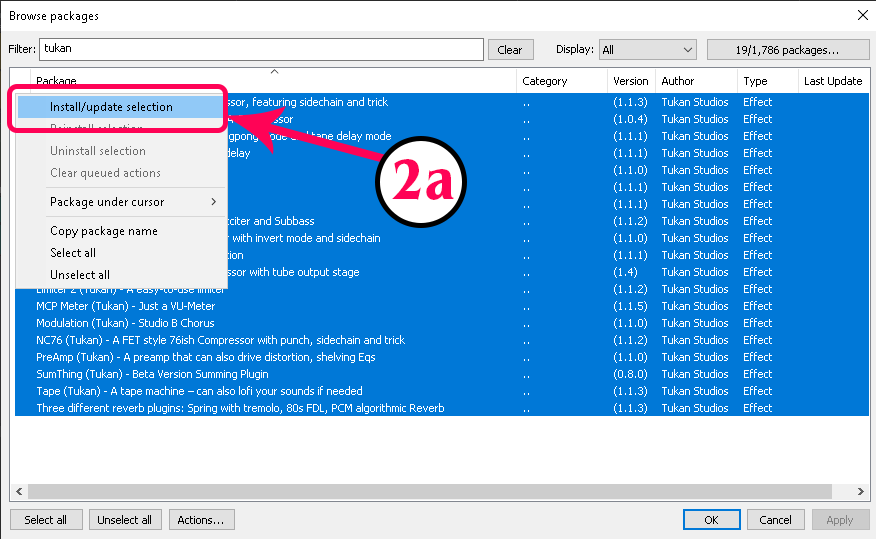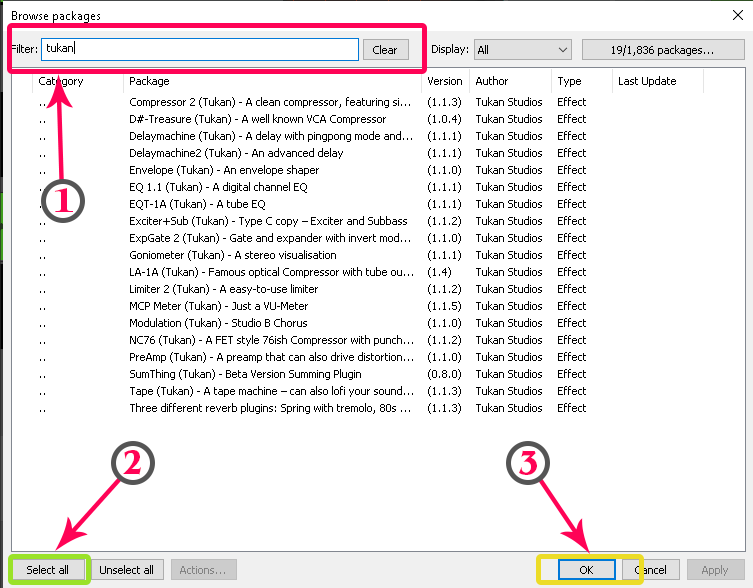 (3) Ok – when finished to complete installation
---
Check installation of new plugins
Once we have let the installation complete we can now check our new plugins are installed.
Add a new track and click the FX button.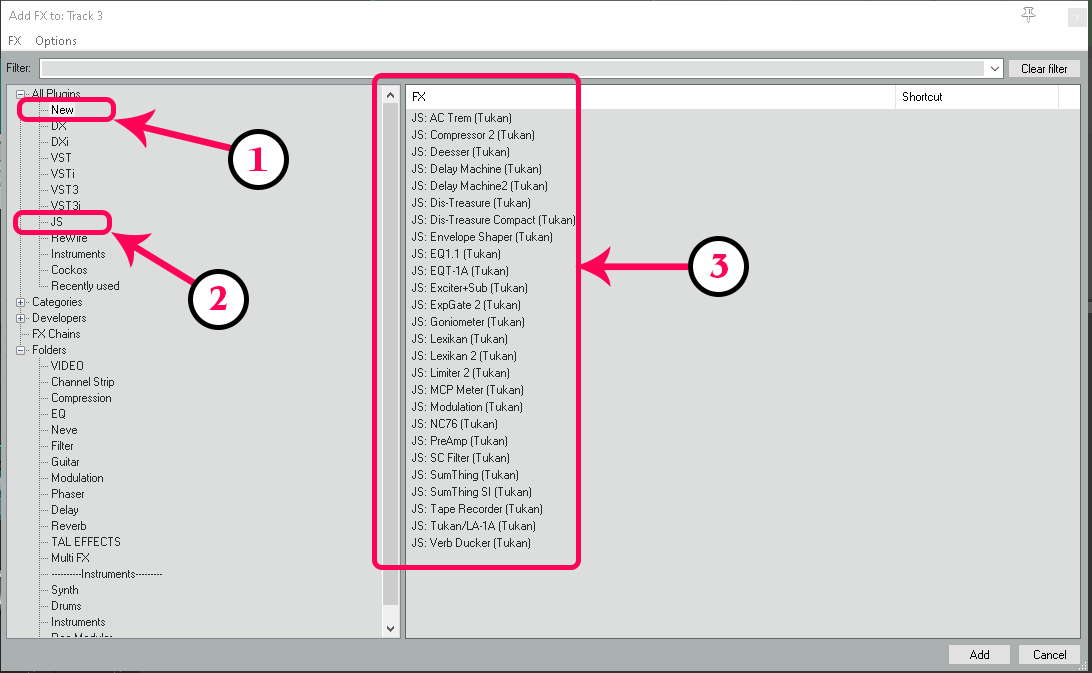 (1) New – The newly installed plugins will now be visible in the 'New' folder – if they are not try rescanning the VST folder in preferences.
---
Plugins Available:
Tape Recorder: Tape Saturation

Tukantronix: LA1a Compressor

Modulation Chorus Effect

NC76 – Compressor/Limiter

Limiter No.2

LexiKan – Reverb Plugin

Lexikan 2 – Reverb Effect

Exciter+Sub

EQT-1a – EQ Plugin

EQ1 – Equalizer

Dis-Treasure – Saturation

Delay

Delay 2

Desser

Compressor 2

AC-Trem – Tremelo Effect

Preamp

Sidechain Filter

Verb Ducker

Sumting – Summing Plugin

---