Lofi Space Plugin – Waves Free Plugin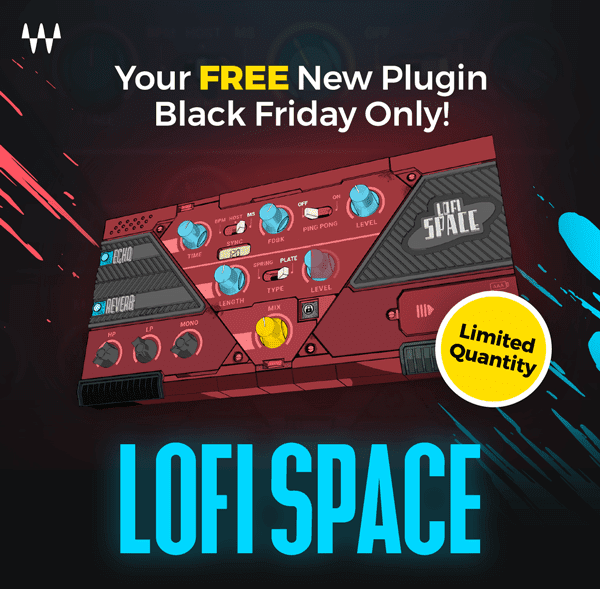 Use Space as an Instrument
Some reverbs and delays are there just to be felt. Lofi Space is meant to be heard.
Lofi Space is the perfect effect for those attention-grabbing ear candy moments. With bright saturated delay and two flavors of analog-based spring and plate reverb, Lofi Space lets you add splashes of vintage 'verb color and bold analog echo to your tracks. Instantly, without tweaking, you can create deep, gorgeous lofi-tinged effects, suited for any production in need of that vintage touch.
Above all else, Lofi Space brings you character. It's the effect you'll be reaching for when you want to stop being polite with your sound – when you want a lofi-inspired signature 'wow' sound that delivers a bold statement in your production.
In addition to Spring and Plate reverb tones to choose from, delay sync to BPM, host or milliseconds, adjustable echo feedback and more, Lofi Space also gives you a 'slimmer' control, letting you narrow the stereo field of your samples or live instruments to faithfully mimic the sound of old mono records.
Check out Waves Black Friday Deals
Whether used as an insert or on an independent FX channel, Lofi Space is a surefire way to spice up your game and start using reverb and delay for what they are – inspiring instruments in their own right.
Lofi-style reverb and delay plugin
Two analog reverb flavors: Spring and Plate
Saturated echo synced to BPM, host, or milliseconds
Adjustable echo feedback
Stereo ping-pong toggle for the delay
Individual on/off for the reverb and the delay
Stereo field slimmer for a more vintage sound
Mix knob with lock-mode for safe mixing
Get it Here Now Free!!!