Free Sampler VST Plugin: Zampler
Zampler // RX is a free sampler vst workstation plugin.
The free installer download comes with 2 free banks and selection of sounds curated from various Loopmasters packs for you to enjoy:
"Dance Production Sounds" – The pack is a total of 332Mb and includes 30 Multi-Samples, 1 bank file,  and 333 Multi Samples.
"MainRoom and EDM DrumKits" – The pack is a total of 111Mb and includes 30 patches/kits, 1 bank file,  and 457 Multi Samples.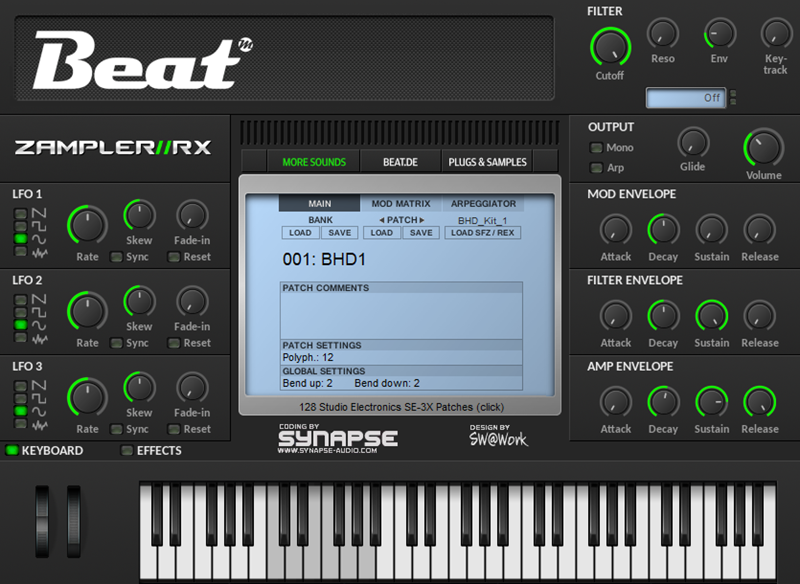 A Powerful Sample Workstation for VST & AU – FREE!
We've teamed up with guys at Beat.de and are happy to present you with Zampler // RX.
Zampler // RX is a free sample workstation that includes a variety of ways to sculpt and manipulate sounds and it includes features you would expect in any current soft-sampler. For finest sound shaping: the integrated multi-mode filter offers the types low, high, band pass and band stop as well as various combinations of these. Three LFOs, three ADSR envelopes and a complex modulation matrix bring life to the sounds. The range of functions is rounded off by an extensive effects section, in which tube saturation, two equalizers, phaser, chorus, delay and reverb refine every sound.
With Zampler // RX 2.0, Beat updates the professional sample workstation for Windows and OS X, which can easily keep up with the big players in the industry in terms of sound and sampling capability. Thanks to the clever step sequencer, particularly complex, full and lively sounds are a specialty of the Zampler. Finally, the well-known algorithms of the Dune inventor Synapse-Audio work under the hood.
The plug-in is available for the VST and AU interfaces and impresses with its well-thought-out features. In addition to REX loop compatible sample oscillators, the Zampler is capable of supporting the .sfz format which makes it a perfect fit with the sample libraries from our sister site Loopmasters.
Expansion Packs and Bundles made by Beat and Loopmasters are also available to purchase.
Features
The plug-in comes in both VST and AU formats. File types supported are REX loop and SFZ.
The plugin's sample oscillators make Zampler a great tone-shaping tool
In the integrated multimode, lowpass, highpass, bandpass and bandstop filters, as well as various combinations are available
Three LFOs, three ADSR envelopes and a complex modulation matrix, bring life to the sound.
An extensive effects section is available including tube saturation, two equalizers, phaser, chorus, delay and reverb.
The clever step sequencer allows for especially complex, full and vibrant sounds – a speciality of Zampler.
Uses the valent algorithms of "Dune" inventor Synapse Audio
More Detail:
Samples of any bit-depth (8/16/24/32-bit), mono or stereo are supported
Multiple sample rates supported (eg 44.1k, 48k, 88.2k, 96k, 176.4k, 192k, 384k)
Up to 128 keyboard splits
Up to 128 velocity splits