Roland D-110 – Timbre
Selecting a Timbre from the Roland D-110 sound module.

Step 1.
Push TIMBRE.
The Display shows the Timbre Number ( = Group, Bank and Number) of the Timbre assigned to the Part currently selected and the Tone name used for the timbre.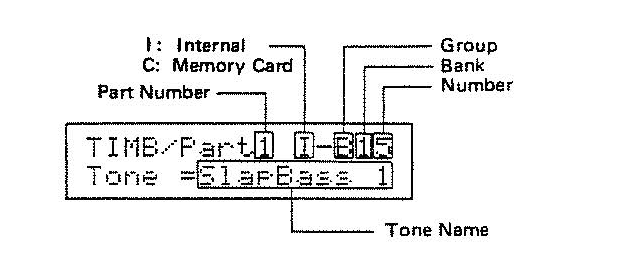 Step 2. Using PART select the Part where you wish to assign a different Timbre.
Step 3. Assign the Group with PARAMETER/GROUP ( ).
Assign the Bank with the PARAMETER/BANK( ).
Use VALUE/NUMBER ( ). to select the new Timbre to be used for your chosen Part.
To select the Internal or Memory Card mode, use the PARAMETER/GROUP ( ).
If a memory card is not connected to the Card Slot, or a memory card which contains data from another instrument ( i.e., not a D-110, D-10 or D-20) is used, an Error Message will appear in the Display.
 The D-110's maximum number of voices played simultaneously changes depending on how the selected Timbre is programmed.
Step 4. Repeat Steps 2 and 3.
Step 5. Push EXIT to return to the Play mode.
[Selecting a Timbre with Program Change messages]
The Timbre can be changed using the Program Change messages sent from the controller unit.
Turn the D-110 to the Play mode, and send Program Change messages on the MIDI channel of the relevant Part, and the Timbre of that Part will be changed.