Dave Audé EMP Toolbox
Six cutting-edge plugins for electronic music production only $129
Includes: C6 Multiband Compressor, Element 2.0 Virtual Analog Synth, H-Delay Hybrid Delay, L3 Multimaximizer, L3 Ultramaximizer, MV2, Trans-X.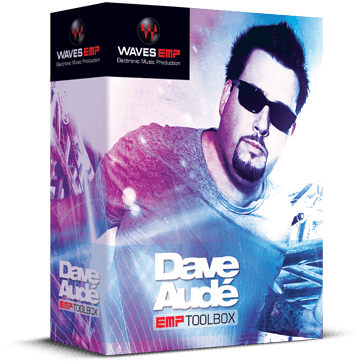 Six cutting-edge plugins for electronic music production, hand-picked by Grammy®-winning producer, DJ and remixer Dave Audé.
There's mixing, there's remixing and then there's Dave Audé, the Grammy®-winning electronic music producer trusted by the world's most demanding artists to turn their hits into super-hits. Rihanna, Lady Gaga, Beyoncé, Katy Perry, Madonna, Coldplay, Celine Dion, Chris Brown, U2 and Selena Gomez. All have graced the Billboard charts, and all have had #1 Dance singles remixed by Dave Audé. To date, Dave has over 100 Billboard #1's under his belt.
In order to meet the standard of excellence set by his A-list clients, Dave Audé puts his trust in Waves dynamics, effects and mastering tools. Hand-picked by Dave himself, the Dave Audé EMP Toolbox contains six cutting-edge Waves audio processors he uses most in his mixing and mastering sessions, including the highly intuitive Element synthesizer plugin. Must-have plugins for any electronic music producer, these processors are as powerful as they are creative, and can shape your mixes in any direction you wish to take.