This article is a follow on from a previous article:
Using Transpose to create chords in Reaper's Piano Roll
| I | ii | iii | IV | V | vi | vii |
| --- | --- | --- | --- | --- | --- | --- |
| I | ii | iii | IV | V | vi | vii |
| C | D | E | F | G | A | B |
| Major | Minor | Minor | Major | Major | Minor | Diminshed |
Create a C Major Chord following the illustration below: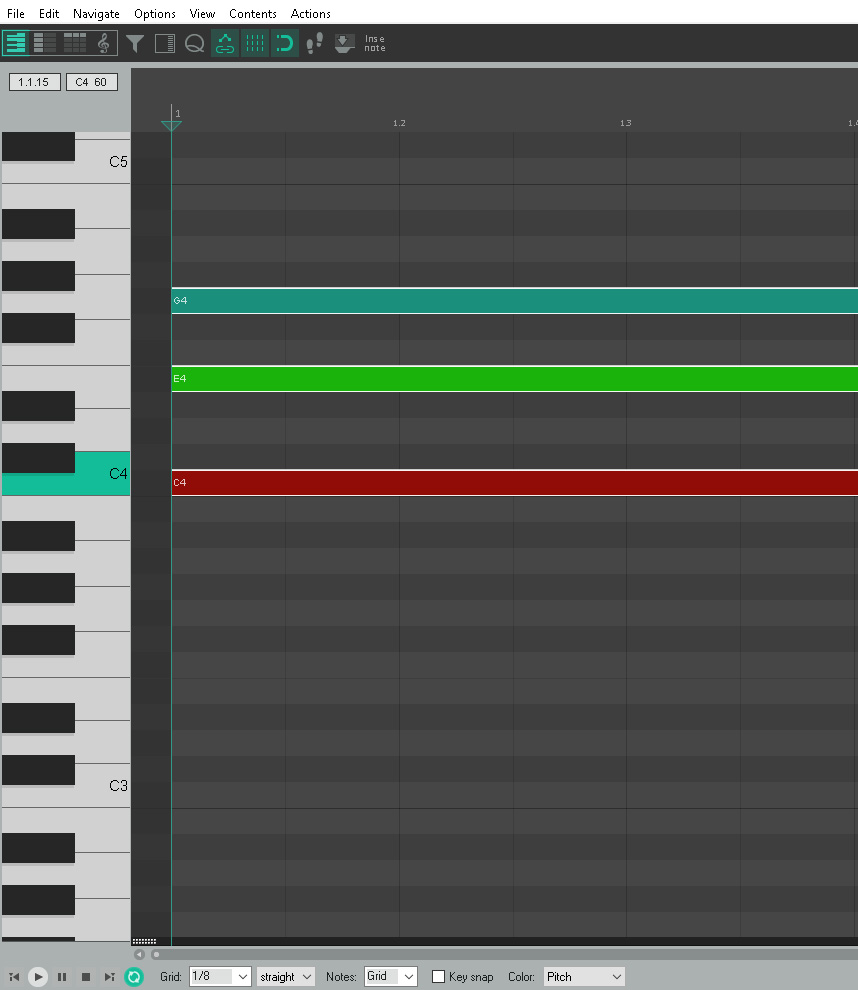 CTRL + A to select all notes in chord.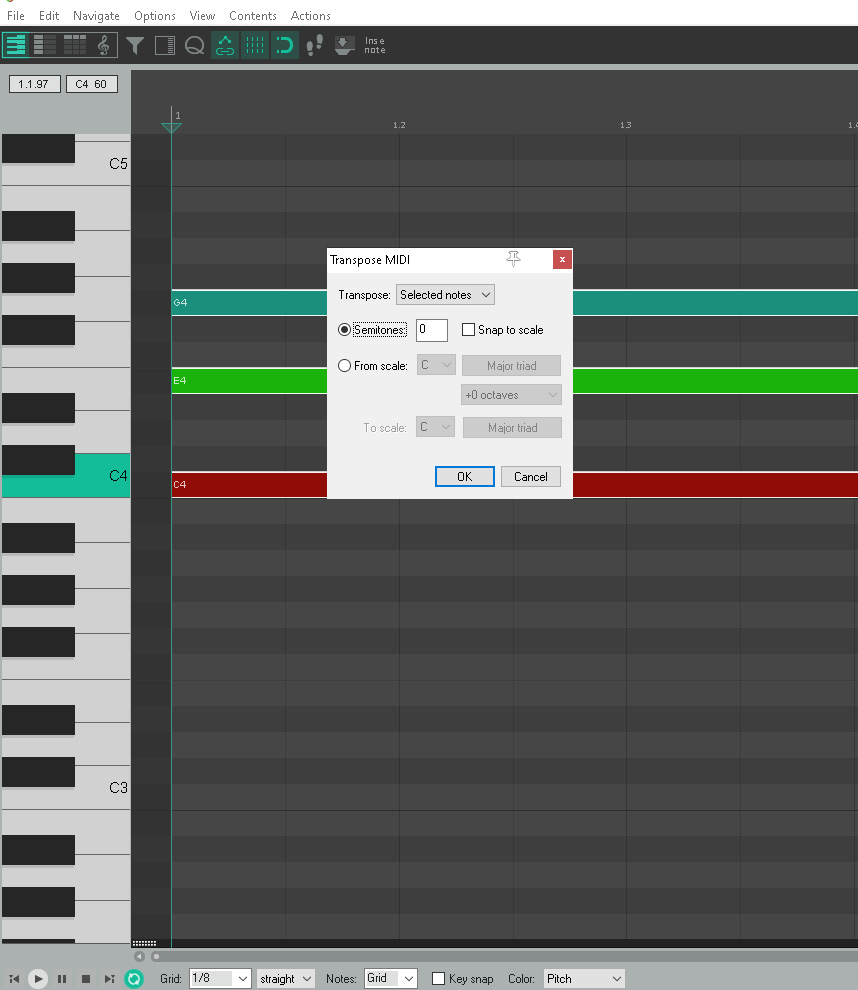 Choose 'From Scale'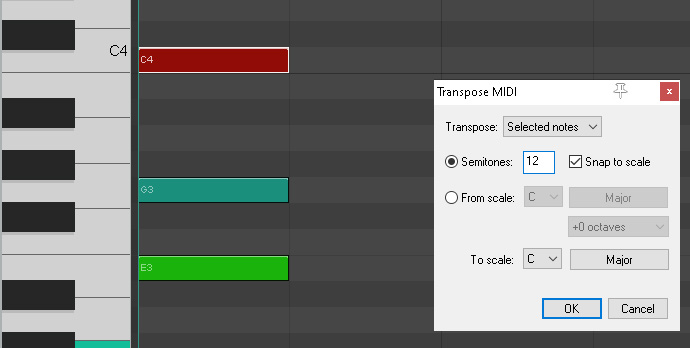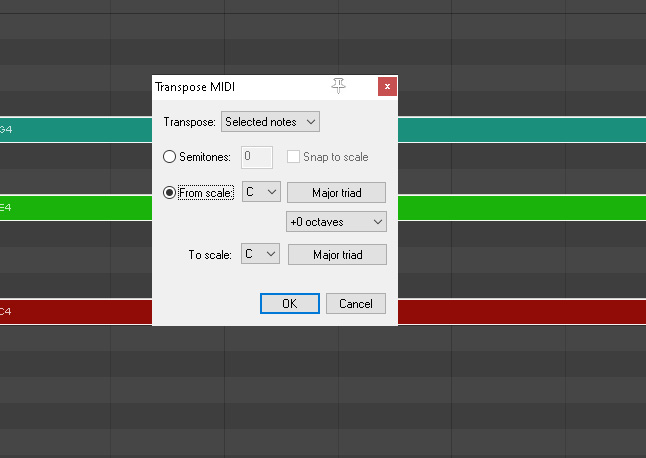 Make sure 'From Scale' is the same as your chord. Choose 'MajorTriad'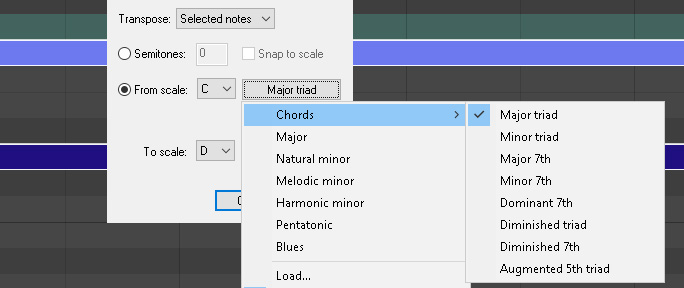 You now need to change 'To Scale' to the chord you want.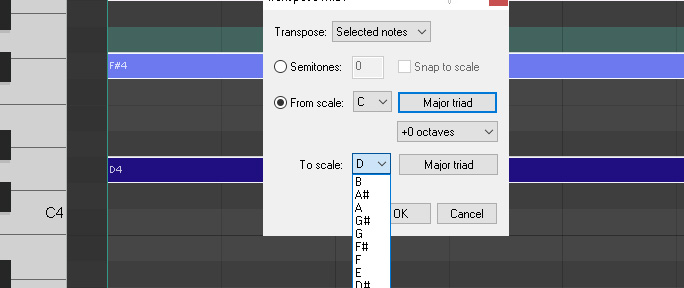 We can now change the root note of our chord: In the example we are using D Major.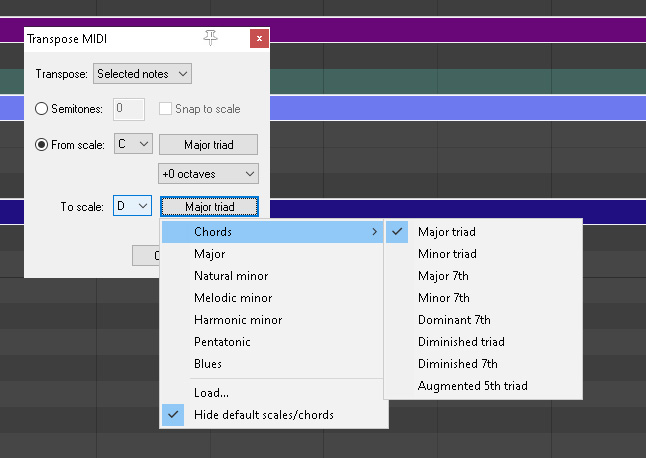 With these settings we will see the D Major Chord transposed from the C Major we created as you can see below if you look to the left.
To commit click 'OK' to revert back click 'Cancel'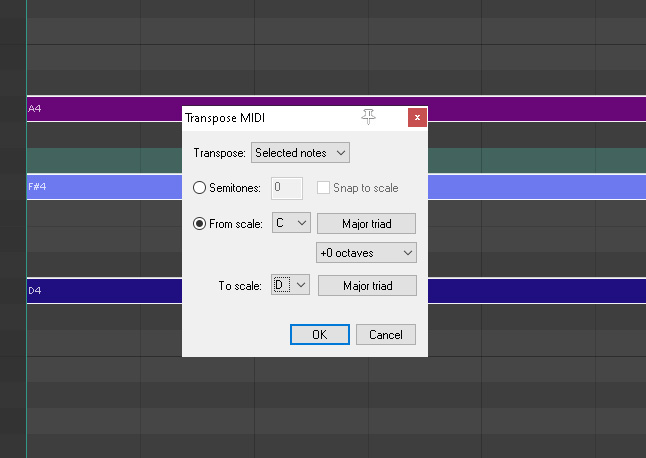 D Major Chord: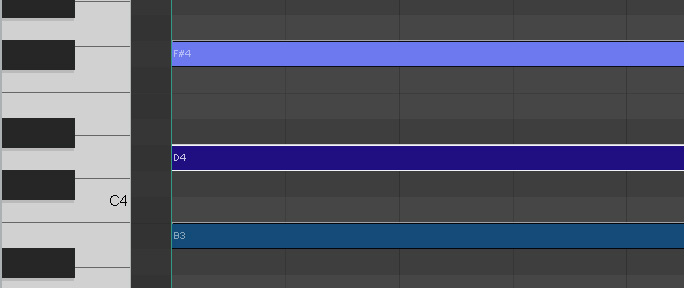 We can also transpose to Minor chords.
Click on the Major Triad button as shown below and switch to 'Minor Triad'

If you look to the left you will see our chord is now a D Minor chord:

We use this to learn chords and use them in our compositions.
Chords by key to experiment transposing:
Key of C:
C Major – D Minor – E Minor – F Major – G Major – A Minor – B Diminished
---
Key of G:
G Major – A Minor – B Minor – C Major – D Major – E Minor – F# Diminished
---
Key of D:
D Major – E Minor – F# Minor – G Major – A Major – B Minor – C# Diminished
---
Key of A:
A Major – B Minor – C# Minor – D Major – E Major – F# Minor – G# Diminished
---
Key of E:
E Major – F# Minor – G Minor – A Major – B Major – C# Minor – D# Diminished
---
Key of B:
B Major – C# Minor – D# Minor – E Major – F# Major – G Minor – A# Diminished
---
Key of F:
F Major – G Minor – A Minor – Bb Major – C Major – D Minor – E Diminished
---
Key of Bb:
Bb Major – C Minor – D Minor – Eb Major – F Major – G Minor – A Diminished
---
Key of Eb:
Eb Major – F Minor – G Minor – Ab Major – Bb Major – C Minor – D Diminished
---
Key of Ab:
Ab Major – Bb Minor – C Minor – Db Major – Eb Major – F Minor – G Diminished
---
Key of Db:
Db Major – Eb Minor – F Minor – Gb Major – Ab Major – Bb Minor – C Diminished