Free Guitar Effects and Amp Simulation Plugins
A list of some of the very best Free Guitar VST plugins and software available to download for your projects.
FREE AMP SIMULATION AND EFFECTS RACK – Guitar Rig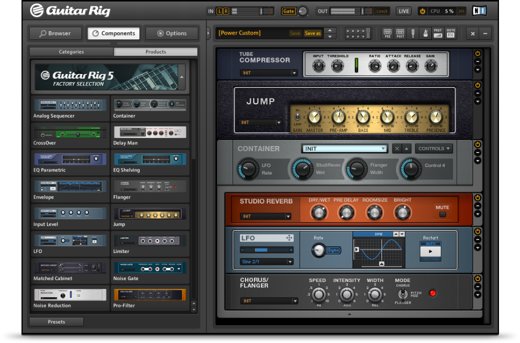 Based on GUITAR RIG 5 PRO
Amp simulation with matched cabinet, 3 effects, and 50 ready-to-use presets
Also included in KOMPLETE START – the free bundle with 2,000 sounds and 6 GB of content
Get it for free with Komplete Start at Native Instruments
---
Amplitube Free Guitar VST plugins and software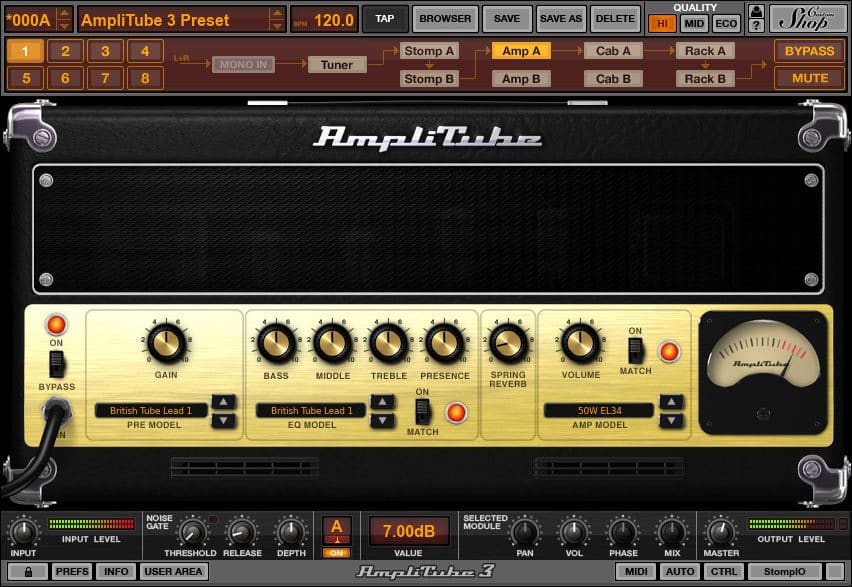 FREE version of AmpliTube 4 with 24 models including a digital chromatic tuner, 9 stomps, 4 amps, 5 cabs, 3 mics, 2 rack effects
More models can be added à la carte with the new online Custom Shop
All gear models and collections can be purchased using Gear Credits (Custom Shop) or regular currency (Custom Shop/IK online store)
Credit prices drop down to $0.50 / €0.40 per credit when credits are purchased in bulk
Includes officially authorized models of legendary guitar and bass gear brands
Mac/Win standalone and plug-in (AAX, VST and AU) with native compatibility for 64-bit applications and operating systems
Ultra-accurate sound emulations with DSM™ and VRM™ technologies
8 double rig configurations with up to 20 chainable effects with 2 amps
Two movable mics
Preset database
Full integration with IK's hardware
SpeedTrainer to slow-down/speed up backing tracks with no change in pitch
Built-in 2-track recorder in the standalone version
Choose from over 280 individual models of gear from the world's top manufacturers
---
Aradaz Free VST Guitar FX plugins.
There are four FX available and all seem to have a small lean on CPU usage.
Crunch Amp



White Amp


Green Amp


And the OUR Cabinet Simulator VST plugin, which has no GUI just parameter controls in your VST Host or DAW.
These plugins will will need an speaker cabinet emulator to get good results.
JS Effect-speaker-convolution-amp-modeler built into reaper will work well you could also try it with Voxengo's Boogex.
Download them all from here at 
ARADAZ
---
Voxengo Boogex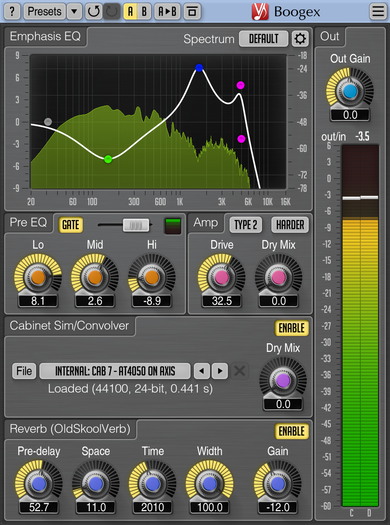 Boogex is a guitar amplifier effect AAX, AudioUnit and VST plugin with a variety of sound shaping features for professional sound and music production applications.  With Boogex it is possible to get a heavy distorted sound as well as slight "jazzy" saturation sound.  Boogex is also able to apply any speaker cabinet impulse response (selection of built-in impulses is available).  The processing latency is close to zero making it possible to use Boogex for real-time guitar processing.
Boogex also includes input gate module, and reverberation module derived from Voxengo OldSkoolVerb reverb.
Boogex produces a nice "minimalist" sound which may be a bit noisy at higher drive settings, higher frequencies can be easily suppressed with its built-in Emphasis EQ.
Download Here
Additional speaker cabinet impulses can be downloaded here.
Voxengo Tube Amp


Tube Amp is an audio effect AAX, AudioUnit and VST plugin for professional sound and music production applications that applies asymmetric tube triode overdrive usually found in single-tube microphone pre-amp boxes.  The sound this plugin produces varies from a mild "warm" overdrive to a fuzzy distortion.
Tube Amp also includes a -6 dB/oct low-pass filter that is built-in into plugin's tube/valve modeling equation, and can be used to imitate a lower-quality tube triode.  Beside that, Tube Amp has a switchable output saturation stage which can be used to additionally overdrive the output signal.
Tube Amp features all standard advanced Voxengo plugin features like full multi-channel operation, channel routing, built-in oversampling and other functions.
Download free
---
Blue Cat Amp – Free Guitar VST plugins and software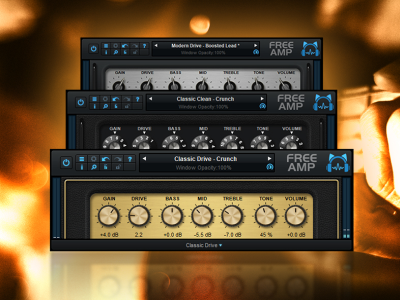 Blue Cat's Free Amp is a free guitar amp simulation plug-in offering three amp models created with the acclaimed Blue Cat's Destructor amp simulation modeler.
Inspired by legendary guitar amplifiers from the real world, the included "classic clean", "classic drive" and "modern drive" amp models cover a wide range of guitar amp tones, from clean vintage sounds from the early days of electric guitar to modern high gain metal tones.
Download for free here
---
Studio Devil British Valve Custom – Free Guitar VST plugins and software
Guitar Amp Modeling Plug-In for Mac and Windows
Studio Devil British Valve Custom is a FREE guitar amp modeling and audio effects plug-in for use with VST, AudioUnits, and ProTools RTAS compatible hosts running on both Mac and Windows platforms.


Features:
British High-Gain Amp emulation based on Marshall® stack!
Power Amp Drive Control to adjust natural power amp compression.
Built In 4×12 Cabinet Emulation!
Realistic Tone Controls: Bass, Mids, Treble, and Presence
Professional Sampling Rates: 44.1kHz, 48kHz, 88.2kHz, 96kHz, 176.4kHz, and 192kHz support!
4X Up-Sampling Engine with 64-bit Floating-Point Internal Precision
Compatible with Windows and Mac VST, Audio Units and ProTools RTAS hosts!
---
Free tube guitar amp VST plug-in from Nick Crow,
Want Another for another guitar effects plugin to add to your collection?
Well take a look at the 8505 Lead Guitar Amp designed by Nick Crow.
I found this purely by accident, not tested it yet but will do in the next few days.
You will need an speaker cabinet emulator to get good results.
JS Effect-speaker-convolution-amp-modeler built into reaper or Voxengo's Boogex.


Download it here
---
Lepou VST Amp Sims
Below I have listed a few of my favourites but there are a few more to download to get the best sounding results you will need an speaker cabinet emulator to get good results. You could use the JS Effect-speaker-convolution-amp-modeler built into reaper will work well or you could also try it with Voxengo's Boogex.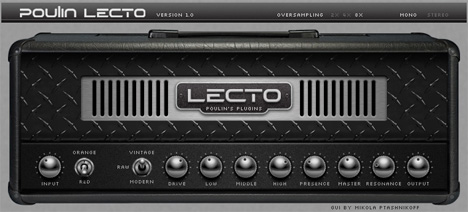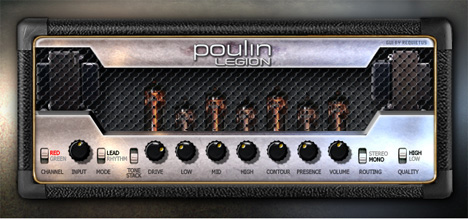 Link
---
Mecuriall
Awesome FX Pedals – Mainly Distortions that work well combined with the effects above: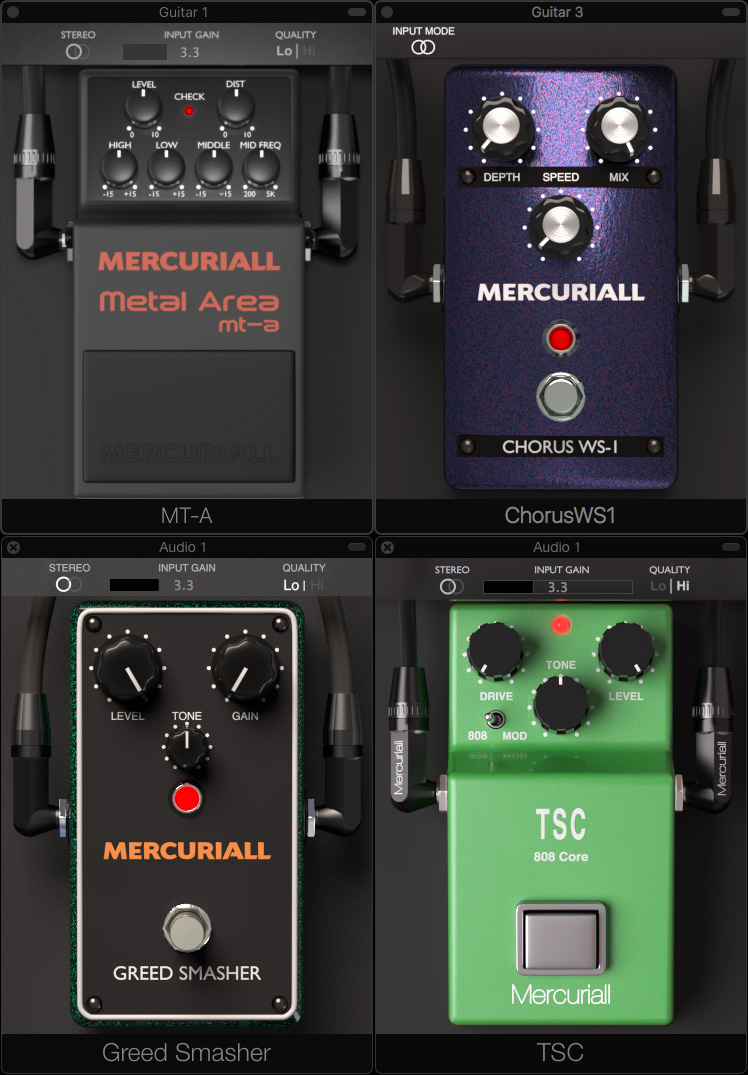 Link to download
---
Reaper's built in guitar FX amp Modeler Amp Sim
Convolution Amp/Cab Modeler:
A simple run down of the Convolution CAB/Amp Modeler JS plugin.
Add a track in Reaper and open FX insert
Look for the JS Folder:

In the Filter Seach Box:
Type cab – it should filter down your options and bring up JS: Convolution Amp/Cab Modeler.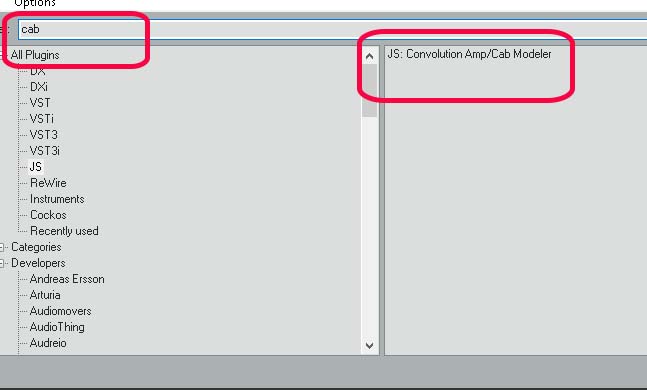 Once inserted you will be presented with the following plugin.




The circled drop down form shows our model options.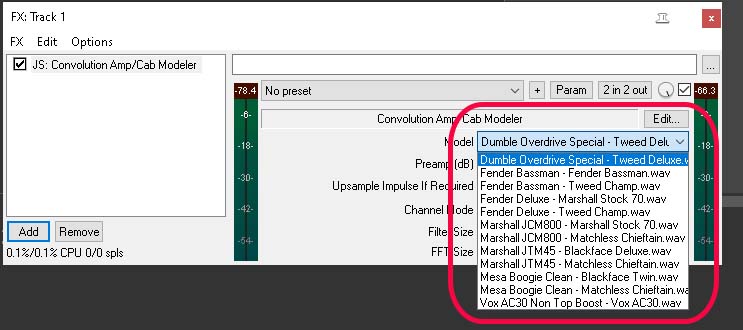 Before we carry on it's worth noting that the preamp is set to 0db – this will cause clipping.
Change this setting to -18 – this will give us some headroom to play with.
If you arm your track and engage monitoring you should now here your guitar with the chosen effect.
We can now add another effect to create a distorted/overdriven guitar sound.
We can use the built in JS Distortion Plugin – as add an effect in FX. Go to to JS folder and in the search box type distortion. Add effect and then move that effect to the beginning of the FX chain. See below.



As you can see above I have adjusted a few settings – mainly the Max Volume as this can overload the channel if not adjusted.
Clean: Dumble Overdrive Special
Distorted: Dumble Overdrive Special
Another option is to use an 3rd party VST effect.
The Poulin HybBrit Vst guitar amp is perfect for this.
I have adjust the settings for this effect – MCJ is ENGAGED and DRIVE is at around 1 O'clock.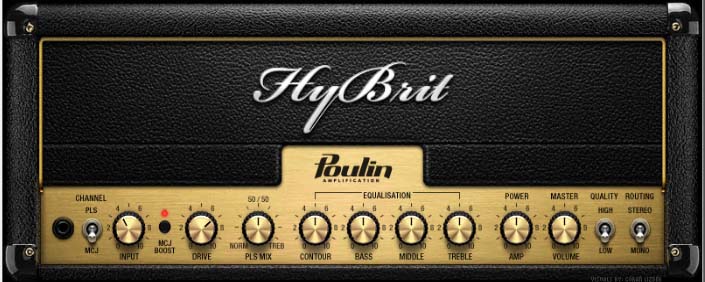 In Convolution Amp/Cab Modeler I have changed Model to Marshall JCM800.
I have adjusted preamp to -18 as well.



You can go further by adding more effects to the chain such as flanger, phaser delay and reverb but this is as far as this section goes for the moment.
Add More Impulse files to Convolution Amp/Cab Modeler plugin.
Setting Guitar FX up in Reaper