Behringer 1424p Ultramizer Software
The official Behringer 1424p Ultramizer Software doesn't seem to work in Windows 10 so I have used CTRLR software to create a midi controller plugin to be used in a DAW.
Get more control over the Behringer 1424p Ultramizer with this free software.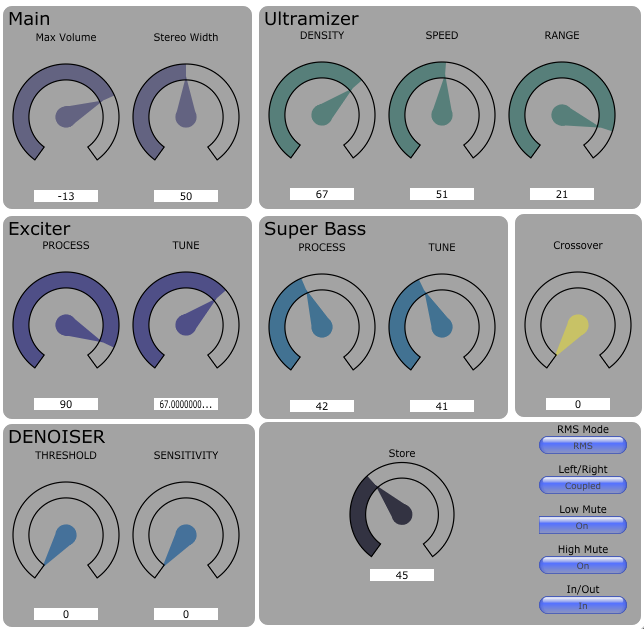 ULTRAMIZER PRO DSP1424P
The ULTRAMIZER PRO DSP1424P confers the added value of 24-bit resolution to the already hugely popular ULTRAMIZER PRO DSP1400P, plus much more. Its powerful new DSP engine lets you add multi-band, program-adaptive compression and limiting for both low and high frequencies while at the same time remaining absolutely "inaudible".
ULTRAMIZER PRO DSP1424P
No matter if you want to increase the loudness of your mastering recording or double the loudness of your PA system without adding more amplifier power, the DSP1424P is the perfect tool. A peak limiter protects against any clipping and dangerous sound pressure levels and the built-in 3D stereo surround processor provides unbelievable spatial enhancement and improved stereo imaging, giving your mixes that often sought-after extra "gloss", while the noise reduction system keeps things clean. Despite the sheer scope of added functions and improved functionality, the DSP1424P is still super easy to use and operate, letting nothing come between you and your music.
A free editor is downloadable at BEHRINGER's here.
ULTRAMIZER PRO DSP1424P
Ultra-high performance digital multiband loudness maximizer / sound program enhancer powered by a 24-bit DSP
Doubles the loudness of your recordings and sound reinforcement systems without any distortion
Ultimate mastering machine maximizes signal energy with absolutely "inaudible" and transparent compression
Variable band-split compression eliminates virtually any gain intermodulation effects, such as "bass pumping"
"Intelligent" digital limiter protects against any clipping and dangerous sound pressure levels
Built-in denoiser and exciter for noise-free and ultra transparent sound
3D stereo surround processor provides unbelievable spatial enhancement and improved stereo imaging
Super bass enhancer psycho-acoustically creates an incredibly powerful bass sound
Incorporated leveler for constant average output level while retaining the instantaneous dynamics
Free Ultramizer editor software allows total remote control via PC-download at www.behringer.com
Servo-balanced inputs and outputs on gold-plated XLR and TRS connectors for high signal integrity
50 programmable user presets for instant recall
Accurate eight-segment LED Level and Gain Reduction meters for optimum performance
Full MIDI capability allows real-time parameter control and program selection
High-quality components and exceptionally rugged construction ensure long life
3-Year Warranty Program*
Designed and engineered in Germany