Modeled on one of only a few tube-powered units ever made, the Waves Aphex Vintage Aural Exciter® plugin delivers all the unique character of the rare original hardware unit, with all the advantages of software.
When it was originally introduced in the mid-1970s, the Aphex Aural Exciter brought its distinctive sound to select sessions by leading recording artists, traveling from studio to studio as an exclusive (and expensive) rental unit.
A true groundbreaker, the original Aural Exciter was highly regarded for its ability to increase and enhance presence, brightness, and vibrancy on vocal and instrumental tracks alike. It was even credited as a "session player" on best-selling albums by the likes of Jackson Browne, Linda Ronstadt and James Taylor, engineered by Val Garay, who worked closely with us on the development of the plugin.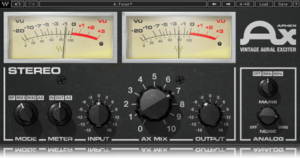 Modeled plugin based on the original tube-powered hardware
Developed in association with Aphex
Adds brightness, vibrancy and depth
Increases presence without raising levels
Perfect for vocal and instrumental tracks alike
Mix and AX modes for insert or send configurations